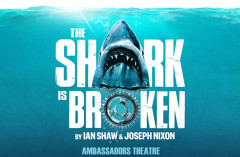 Update for The Shark is Broken at the Ambassadors Theatre
It's written by Ian Shaw and Joseph Nixon and directed by Guy Masterson. It's a fantastic sell-out smash hit from 2019's Edinburgh Festival Fringe. It whisks audiences behind the scenes of the iconic scary movie Jaws, a 'brilliantly funny and deeply moving' new play that re-imagines the events on board The Orca when the cameras stopped rolling. The Shark is Broken opens at the Ambassadors Theatre for a strictly limited season, running from 9th October 2021 to 15th January 2022.
Who's involved in The Shark is Broken?
Producer Sonia Friedman is thrilled to be involved in this 'brilliantly funny' and unique play. As she says, "Jaws was made against all odds, and became one of the greatest films of all time. So, we always knew we had to bring this brilliantly original play to the Ambassadors Theatre in spite of everything. Ian Shaw and Joseph Nixon deliver a hilarious and uniquely personal perspective on one of the most legendary moments in film history, bringing three Hollywood icons to life onstage. Hysterically funny and oddly profound, 'The Shark Is Broken' is the sort of unexpected gem you only find at the Edinburgh Fringe, and I cannot wait to share it with West End audiences - at last!"
Ian Shaw, Joseph Nixon's co-writer, stars as his dad Robert Shaw – he was involved in smash hits like War Horse, Common, Widowers' Houses, The Importance of Being Earnest, Nude With Violin, The Philadelphia Story and The Brothers Karamazov
Joseph Nixon is the author, along with Brian Mitchell, of Those Magnificent Men, Big Daddy vs. Giant Haystacks, and Studies in Salesmanship
Guy Masterson is an Oliver Award winning theatre producer and director who has presented more than 130 shows over 26 consecutive Edinburgh Festival seasons
Sonia Friedman is a prolific West End and Broadway theatre producer, responsible for some of the best-loved and biggest-earning productions in London and New York
The full cast will be announced soon
Buy The Shark is Broken Tickets
Book your The Shark is Broken tickets online with us and choose the best seats with our Ambassadors Theatre seating plan. We'll send your E-tickets to your email address – simply present them at the door on the day of the performance and you're in!
About the Ambassadors Theatre
The Ambassadors Theatre is one of the more intimate West End venues, seating just 444. You'll find it on West Street, near Cambridge Circus on Charing Cross Road in the City of Westminster. Past shows at the Ambassadors Theatre include The Little Shop of Horrors, Whipping It Up, Sweeney Todd, Waiting for Godot, and Love Song.
x