Ambassadors Theatre
West Street, London, WC2H 9ND GB
Now showing at the
Ambassadors Theatre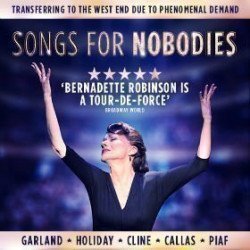 Booking until: Saturday, 23 February 2019
You are invited to a 'truly virtuosic performance... a masterclass' with songs from with Judy Garland, Patsy Cline, Edith Piaf, Billie Holiday and Maria Callas.
On stage for 90 minutes accompanied by live musicians and 'performed with astounding versatility', Bernadette Robinson's miraculous voice shifts from the smoky blues of Billie Holiday to the thrilling soprano of Maria Callas, via Garland, Cline and Piaf. With consummate ease, she breathes new life into the five legendary performers and the five ordinary women whose lives were changed by their brush with fame.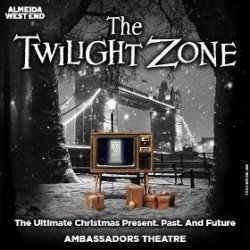 Booking from: Monday, 4 March 2019
Booking until: Saturday, 1 June 2019
Did you ever see the CBS TV show Twilight Zone? If you were around in the '60s and '70s you'll be familiar with its vintage charm. Some stories were terrifying. Some were pretty silly. But they were all irresistible. That hairy monster on the aeroplane engine... nasty. If you haven't seen them, you're in for a huge treat thanks to this tongue in cheek comedy-horror-scifi masterpiece.
Ambassadors Theatre history
From the outside
Built as a small, intimate theatre, the Ambassadors,is an attractive little place that's partially underground, with plain white walls, fancy engravings and the occasional painted coat of arms. The overall effect is understated and unusually elegant.
Ambassadors Theatre architecture and history
Designed by W G R Sprague, who designed a host of beautiful West End Theatres including St Martin's and Covent Garden's Aldwych Theatre, the Ambassadors Theatre was built by Kingerlee and Sons of Oxford. Like many theatres of the time, the Ambassadors was built as one of a matching pair, St Martin' being its other half. Their construction was interrupted by the First World War, and the Ambassadors, finished after the war, is significantly less high than St Martin's.
The Ambassadors Theatre opened with a show called Panthea in 1913, a disaster of a show that closed after just fifteen nights. But its luck soon improved. Originally intended as avenue for small, intimate shows and revues, a few years later it was lucky enough to house debuts by massive stars Ivor Novello, who played in Deburau in 1921, and Vivien Leigh of Gone With the Wind silver screen fame. Most famously, it was the venue where Agatha Christie's The Mousatrap, the West End's longest running show, played for twenty two years before transferring next door to St Martin's in March 1974.
Since The Mousetrap transferred, the Ambassadors Theatre has staged all sorts of interesting and exciting hits including the Royal Shakespeare Company's version of Les Liaisons Dangereuses, with Alan Rickman, as well as smash hits Sweeney Todd and The Vagina Monologues.
In 1996 the Ambassadors enjoyed a complete refit to create two separate theatres, with the Royal Court Theatre upstairs. It reverted back to one theatre in 1999 when the Royal Court company left, and was called the New Ambassadors between 1999 and 2007, after a private buyer took over. It finally reverted to The Ambassadors in 2007.
Stomp the musical has played there since 2007. And Rolling Stones member Ronnie Wood played a one-night gig at the Ambassadors in 2010.
Past shows at the Ambassadors Theatre
Since 1999 the Ambassadors has shown Some Explicit Polaroids by Mark Ravenhill, Spoonface Steinberg by Lee Hall, Krapp's Last Tape Al Murray the Pub Landlord, Marie Jones' Stones In His Pockets and The Watermill Theatre's production of Sweeney Todd. Recently it has been home to Love Song by John Kolvenbach, Whipping It Up by Steve Thompson and the Menier Chocolate Factory's version of the massive hit, Little Shop of Horrors.
Ambassadors Theatre access
The Ambassadors Theatre provides an infrared system. Both guide dogs and hearing dogs are allowed in the auditorium, or staff will gladly dog-sit for you if you prefer. There are serious spatial restrictions because of the theatre's design, so they can only accommodate wheelchair transfers.
Ambassadors Theatre tickets
We're a top destination for a wide variety of seat types and prices, with excellent availability on the full range of Ambassadors Theatre tickets.
Theatre Address
Ambassadors Theatre
West Street, London, WC2H 9ND GB +44 (0)20 7492 0813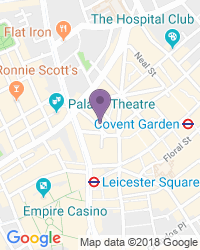 Facilities
Air conditioned
Bar
Infrared hearing loop
Member of Q-Park scheme
Toilets
Theatre Info
Capacity: 400
Year built: 1913