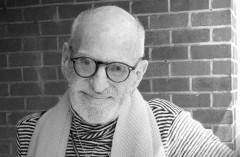 Next February The National Theatre will present a revival of Larry Kramer's The Normal Heart which they describe in their press release as "Kramer's largely autobiographical play about the AIDS crisis in 1980".
They've also announced that Ben Daniels will perform the role of Ned Weeks, the co-founder of an AIDS advocacy group fighting to change the world around him, with Danny Lee Wynter as Tommy Boatwright, Daniel Monks as Mickey Marcus and Stanley Townsend as Ben Weeks.
It's an undisputed masterpiece, harrowing yet full of fight and life to keep you engaged. Despite this I wonder whether audiences will fancy watching a play about a health crisis, in the middle of a health crisis.
It may be interesting to compare the two although on the face of it there aren't many similarities. At the time that The Normal Heart was written AIDS was taboo due to its connection with homosexuality and unrecognized by society at large; funding to combat it was in short supply. That's not the case with Corona. Even so the respective pandemics have brought out the best and worst in people and the kindness of strangers in a crisis is a powerful theme that will never date.
You'd think programming a play about sickness, right now, would be a canny move to capture the nation's mood but it turns out it's not as cynical as at first appears. Apparently it's been in the pipe line for some years.
Director Dominic Cooke says:
As a student I was lucky enough to see the landmark Royal Court production of The Normal Heart starring Martin Sheen. It had a profound effect on me at the time and I've wanted to direct the play ever since. It is the rarest of things; a history play written by one of its key participants.
It deals with the nature of political activism, the internal battle many LGBT people fight to feel worthy of love and, topically, the refusal of those in power to face the reality of an unfolding health crisis.
Larry Kramer was a firebrand and The Normal Heart is written with all of his characteristic ferocity, political insight and wit.
I've been talking with Ben Daniels for over five years about playing Ned Weeks. He is one of our greatest actors and I cannot wait to begin working with him."
Tickets for The Normal Heart will go on sale from the end of November.