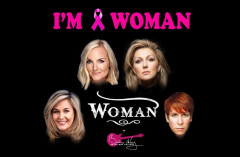 Legendary Queen guitarist Brian May has got together four of rock musical theatre's most powerful female voices Mazz Murray, Kerry Ellis, Gina Murray and Anna-Jane Casey to create what they describe as "A storming blues rock version of famed songwriter duo Jerry Leiber and Mike Stoller's classic 1962 'I'm A Woman', originally made famous by Peggy Lee".
It will be available as a digital download Friday October 23 and is being released in Breast Cancer Awareness Month to support the work of two leading women's cancer charities – Tar-get Ovarian Cancer and The Caron Keating Foundation.
The venture honours the memory of Rebekah Gibbs, another female West End star. The British actress became a household name in TV soap 'Casualty' before she was diagnosed with Grade 3 breast cancer in 2009, and tragically died in 2014.
Close friend Mazz Murray has said - We are thinking particularly of our dear friend and fellow performer Rebekah, who we lost, but not before she brought about a change in the rules of diagnosis and specialist referrals through which she has saved so many lives.. We want to highlight and push women into getting checked early and also to highlight ovarian cancer as there are very few symptoms and it is a deadly form of cancer if untreated early. Cancer doesn't see beauty - fame - money - colour - weight or happiness. It is a random game of poker. Get checked early - sometimes you can change your hand.
Brian May said - This recording was conceived as a response to a calling to promote this great cause for women's health. But it evolved into a magnificently raunchy and defiant rock track in its own right. These four ladies all rock out sensationally, and it was pure joy to underpin their performances with my guitar. I actually stole that down-and-dirty riff from "I'm a Man" so I would claim this arrangement kicks more a** than all previous!! Woman Rocks !!! "
You can view the video at:
And download the track from https://backl.ink/ImAWoman
These women really are a formidable combination. Here's a reminder from the press release of their illustrious West End careers so far.
Mazz Murray has a long and impressive career in musical theatre. Notably, she played Killer Queen in the Queen musical 'We Will Rock You' for a record nine years, also having starred in other rock and pop-based musicals including 'MAMMA MIA!', 'Fame', 'Rent', 'Chicago', 'The Dusty Springfield Story', 'Patsy Cline' and 'The Roy Orbison Story'. She was also the guest star on Il Divo's last world tour.
Kerry Ellis was discovered by May while lead understudying for 'My Fair Lady', before being cast as the original Meat in 'We Will Rock You'. May and Ellis went on to form a performing duo, who have recorded three albums together and toured extensively. Ellis was the first British Elphaba in the West End smash, 'Wicked', and transferred to Broadway to play the role at the Gershwin Theatre before returning to the London production. Other credits include lead roles in 'Oliver!', 'My Fair Lady', 'Miss Saigon' and 'Les Miserables'. She also played Svetlana in 'Chess' at the Royal Albert Hall opposite Idina Menzel and Josh Groban,
Mazz's sister and founding member Gina Murray's long list of West End musical credits in-clude 'MAMMA MIA!', 'Patsy Cline', 'Chicago', 'The Roy Orbison Story', and 'The Full Monty', among others, as well as the film 'Sorted'. On TV Gina is known for her work in 'Witless', 'Judge John Deed', 'Doctors' and 'Eastenders'.
Anna-Jane Casey's theatrical credits stretch over a 30 year career and include leading roles in 'Cats', 'Grease', 'Chicago', Starlight Express', West Side Story, 'Piaf', and 'Sweet Charity'. She has sung with many of the world's leading orchestras and is a regular guest soloist on 'Friday Night Is Music Night' on BBC Radio 2. Television works have included 'Family Guy', 'Doctors', 'Eastenders', 'Coronation Street', 'Heartbeat' and 'Holby City'.