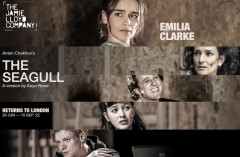 We're pleased to announce an intellectual treat for 2022 in the shape of The Jamie Lloyd Company's production of The Seagull, playing at the Harold Pinter theatre from 7th July and running until 10th September. This popular Anton Chekhov classic, written in 1895, never fails to please. Interestingly, while the writer felt he had created a comedy, many feel it's more of a tragedy. Either way this is a dazzling classic not to be missed.
Who's involved in The Seagull?
The plot? A young woman is desperate to find a way out of her situation by becoming a celebrity. A young man pines for the woman he adores. A writer experiences success but craves the feeling of achievement. An actress doesn't want the world to change. The setting is a remote rural home where everyone's dreams are broken, hopes are forgotten, and hearts are smashed. In a situation like this, all they can do is turn against each other.
A fantastic version by Anya Reiss
Jamie Lloyd directs
Emilia Clarke plays Nina
Tom Rhys Harries plays Trigorin
Daniel Monks is Konstantin
Indira Varma is Arkadina
Sophie Wu plays Masha
The cast also includes Katie Buchholz, Tina Harris and Joseph Langdon, and the rest of the cast is to be announced
Designed by Soutra Gilmour
Lighting Design by Jackie Shemesh
Sound and Composition by George Dennis
Casting by Stuart Burt CDG
Costume Supervision by Anna Josephs
Props Supervision by Fahmida Bakht
Associate Direction by Jonathan Glew
Associate Design by Rachel Wingate
Buy The Seagull Tickets
Book your The Seagull tickets online with us and choose the best seats with our Harold Pinter Theatre seating plan. We'll send convenient E-tickets to your email address – simply present them at the door on the day of the performance for a classic you won't forget in a hurry.
About the Harold Pinter Theatre
The Harold Pinter Theatre is named after the actor and playwright whose plays are often defined by their lengthy, pregnant, incredibly intense pauses. No wonder the word 'Pinteresque' has earned an official place in the dictionary. Past shows at the Harold Pinter Theatre include The Rocky Horror Show, Ghosts, Alan Bennett's Talking Heads, Six Degrees of Separation, and of course the Pinter at the Pinter season, directed by Jamie Lloyd.