6 Panton Street, London, SW1Y 4DN GB
Quick Facts
Largest Ticket Inventory
in the West End
Real time
seat availability
Choose
your seats
Your booking is processed directly into the box office reservation system
The Seagull
Tickets
Opens: Wednesday, 29 June 2022
Booking until: Saturday, 10 September 2022
Starring: Emilia Clarke
Tickets from £18.00
Book tickets
Information
Cheap Tickets
News
About The Seagull
Performance Times
Opens: Wednesday, 29 June 2022
Booking until: Saturday, 10 September 2022
Starring:
Emilia Clarke
The Seagull description
The Seagull – Starring Emilia Clarke
Anton Chekhov's classic play detailing the artistic and dramatic battles between four powerful characters is about to take the West End by storm, this time starring Game of Thrones' heroine Emilia Clarke. This is the actress' theatreland debut and she plays the innocent young Nina in a unique new version of the Russian play, adapted by Anya Reiss. The piece is directed by Jamie Lloyd.
The plot? Nina longs to be famous. She's desperate to escape the drudgery of ordinary life. At the same time a young man pines for the girl of his dreams. Not too far off there's a writer who is a success but just doesn't feel the wonderful sense of achievement he's longing for. And there's an actress who doesn't want the times to change. She wants time to stand still. It's a potent combination and Reiss' clever, creative adaptation brings the play roaring into the 21st century.
The story takes you to an isolated country house where people's dreams are shattered, hearts are broken and dreams fall apart. Dashed ambitions and loneliness lead the way and, as it turns out, when there's nowhere left to go, the only people left to turn on are each other.
The Jamie Lloyd company has just delighted us with their critically respected and hugely popular production of Cyrano de Bergerac.
Game of Thrones' Daenerys Targaryen, AKA Emilia Clarke, has also wowed audiences in Solo: A Star Wars Story, Me Before You, Breakfast at Tiffany's on Broadway and, in London, the magical Sense. This is Anya Reiss' second adaptation of The Seagull, her original 2012 Southwark Playhouse adaptation having won the Most Promising Playwright Award at the Critics Circle and at the Evening Standard. Her debut play, Spur of the Moment, scored a huge hit in 2010.
Jamie Lloyd directs. The design comes from Soutra Gilmour, and Emilia Clarke is by all accounts thrilled to take on such a classic role, being a big fan of Lloyd. An all-round excellent choice, we think!
Who is this show for? The Seagull is recommended for people aged 13 or more.
Important Information
Please note latecomers will not be admitted. Should you choose to leave your seats once the performance begins, there will be no readmission into the auditorium.
Next Performances for The Seagull at the Harold Pinter Theatre
tomorrow
29th Jun 2022
7:30pm
Thursday
30th Jun 2022
7:30pm
Friday
1st Jul 2022
7:30pm
Saturday
2nd Jul 2022
7:30pm
Monday
4th Jul 2022
7:30pm
Tuesday
5th Jul 2022
7:30pm
The Seagull cheap tickets
We have a great selection of cheap The Seagull tickets. We can help you save up to 70% on The Seagull tickets! If you're looking for discount theatre tickets have a look below for our latest offers for The Seagull at the Harold Pinter Theatre.
There are no special offers available at the moment but we still have great ticket prices for The Seagull at the Harold Pinter Theatre.
10

Jan
2022

Jamie Lloyd Company's THE SEAGULL – Tickets on sale
by London Box Office | Monday, January 10 2022, 13:32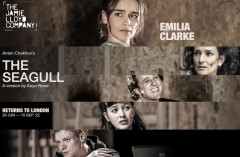 We're pleased to announce an intellectual treat for 2022 in the shape of The Jamie Lloyd Company's production of The Seagull, playing at the Harold Pinter theatre from 7th July and running until 10th September. This popular Anton Chekhov classic, written in 1895, never fails to please. Interestingly, while the writer felt he had created a comedy, many feel it's more of a tragedy. Either way this is a dazzling classic not to be missed.
Jamie Lloyd Company's THE SEAGULL – Tickets on sale
15

Jan
2020

Plays Vs Musicals: The Impact Of Star Casting On Ticket Prices In The West End
by Josephine Balfour-Oatts | Wednesday, January 15 2020, 07:39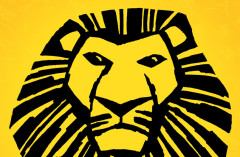 2020 is already lit up by star-spangled stages, and the year has only just begun. Here, we forecast the impact celebrity casting will have on your wallet this year - comforting insights and top tips abound.
Plays Vs Musicals: The Impact Of Star Casting On Ticket Prices In The West End