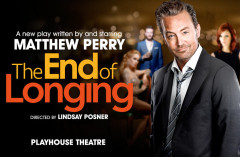 Is anyone looking forward to THE END OF LONGING, the new play by and starring Matthew Perry who found fame, many years ago as the handsome Chandler in TV's FRIENDS?
Candid shots of him on the streets of London cruelly suggest his good looks are long gone and these days he's a bloated figure with receding hair. Nothing wrong with that, age is tough on everyone but with young Matthew Perry on our TV's in reruns of the 1990 sitcom every single day there are likely to be people disappointed that today's Matthew Perry looks like he might have eaten Chandler.
The other cruelty is the producers and director tempting him to take his first steps as a playwright in the full glare of the West End press. No learning his craft or testing his material on the fringe, off-broadway or in a nurturing theatre that specialises in new-writing. Perry's been persuaded to jump straight in at the deep end by producers keen to cash in on his celebrity regardless of the product.
The plot's described by the PR people as follows –
"Meet Jack, Stephanie, Joseph and Stevie: four lost souls, entering their forties and searching for meaning. After sharing one raucous night together in a downtown Los Angeles bar, their lives become irreversibly entwined in a rollercoaster journey that forces them to confront the darker sides of their relationships"
And we're promised a "fast paced, and bittersweet comic new play" and a "sharply written and hilarious dark comedy, The End of Longing, will make you realise that broken people don't need to stay broken"
I do hope it's not going to be two hours of American post therapy, psycho babble.
But let's keep an open mind. It may be that middle aged Perry will make an asset of his change in appearance to make some poignant points about growing older and less attractive. He has been very open about his drug addictions in the past.
He's also a smart man and there's more to his career than sit-com pretty boy.
The press release reminds us that "Perry is currently the star and executive producer on CBS's The Odd Couple, the classic comedy by Neil Simon. The series debuted as the biggest new comedy of the 2014 season, with over 13 million viewers. The second season will premiere in 2016. Previous to this Perry starred in and co-executive produced Go On, NBC's highly rated comedy and has twice guest starred on the award-winning series, The Good Wife. In 2011 Matthew was the executive producer, co-writer and star of the ABC show Mr Sunshine. He has received Emmy, Golden Globe and SAG Award nominations for his starring role in TNT's The Ron Clark Story, and in 2006 starred in Aaron Sorkin's NBC drama Studio 60 on the Sunset Strip, in a role that was written for him. He also received an Emmy nomination for Outstanding Guest Actor in a Drama Series for his role as Joe Quincy in The West Wing. Other screen credits include the films 17 Again, alongside Zac Efron, The Whole Nine Yards, opposite Bruce Willis, which was followed up by The Whole Ten Yards, Three to Tango, alongside Neve Campbell, Dylan McDermott and Oliver Platt, Fools Rush In with Salma Hayek and A Night in the Life of Jimmy Reardon, with the late River Phoenix"
Perry was last in the West End, in 2003, in David Mamet's SEXUAL PERVERSITY IN CHICAGO directed by Lindsay Posner, at the Comedy Theatre. Posner directs him again on this occasion; he's a man who'll seldom let a celebrity casting slip through his fingers, no matter how unlikely it is to deliver great theatre. His last production at the Playhouse theatre starred the theatrically inexperienced Lindsay Lohan with decidedly mixed results.
Reassuringly Perry will be backed up some solid Brit talent in the supporting roles and on the creative team including the our own TV and National Theatre star, Lloyd Owen.
The omens aren't good for this one but you never know, Perry and Posner may surprise us yet!