Playhouse Theatre
Northumberland Avenue, London, WC2N 5DE GB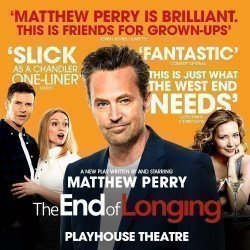 The End Of Longing
Tickets
Playhouse Theatre
Starring: Lloyd Owen, Matthew Perry, Jennifer Mudge, Christina Cole
Book

tickets
Show Closed
This show is now closed.
If you were glued to the telly for Friends, which ran for a decade from 1994 to 2004, you'll be keen to see what flows from the pen of the multi-talented Matt Perry. This is his new play, and by all accounts it's fabulous.
Perry is currently both the star and executive producer of The Odd Couple, CBS and Neil Simons' smash hit series, which hit the comedy loving consciousness hard in 2014 with a whopping 13 million viewers or more per episode.
He won Emmy, Golden Globe and SAG Award nominations for his role in The Ron Clark Story, and made a superb job of the role specially written for him in the drama Sorkin's Studio 60 on the Sunset Strip. He also won an Emmy nomination for Outstanding Guest Actor as Joe Quincy in the long-running US political drama The West Wing.
As far as movies go, he has appeared on the silver screen alongside Zac Efron, Bruce Willis, Neve Campbell, Dylan McDermott, Oliver Platt, Salma Hayek and the late River Phoenix. Last time he was in London, in 2003, he appeared in Sexual Perversity in Chicago, also, like his latest play, directed by Lindsay Posner.
As the Hollywood star said, "Being on stage makes you feel naked. Being on stage in a play that I have written will make me feel doubly naked. So if you'd like to see me doubly naked, The End Of Longing tickets go on sale today." It looks like Chandler Bing has come a long way...
The End of Longing – The story
If you're looking for a light-hearted comedy, walk away. Perry's latest work is as black as your hat, a dark comedy in the finest tradition. You'll meet four 'lost' people – Jack, Stephanie, Joseph and Stevie. They're all entering their forties and looking for the meaning of life. One crazy night spent in a Los Angeles bar changes their lives forever. The bonds that connect them are strengthened for life, and their futures irrevocably entwined.
If you're looking for an hilarious emotional rollercoaster ride, examining the darker side of human relationships, it's the perfect pick-me-up.
The End of Longing tickets – The finest in black comedy
Want premium, full price or discount The End of Longing tickets? We always have great availability and you'll enjoy excellent value for money on the complete range of ticket types and seats, cheap to posh.
Press Reviews
'Consistently funny and often laugh-out loud' The Times
'Wired, raw and very funny. Superb performances' What's On Stage
'Like watching a re-write of Noel Coward's Private Lives strained through Patrick Marber's more flamboyantly explicit Closer' What's On Stage
'Matthew Perry's debut play is smart, stylist and sexy. This is just what the West End needs.' The Spectator
'Lindsay Posner's production is as slick as a Chandler one-liner' Metro
'Funny, sharp and intelligent' Gay Times
'Matthew Perry's writing might not be at complete perfection, but it works. It's fresh and it presents a great new grasp that younger audience members can enjoy' Gay Times
'Sharp wisecracks delivered with aplomb under Lindsay Posner's slick direction' Sunday Express
'Tremendously moving' Daily Express
Customer Reviews
What to expect:
Acting
Music
Costumes
Story
Lighting
Recommended for:
Anyone
Families
Teenagers
Couples
Theatregoers
based on 55 reviews
Good thing it's over
Matthew Perry was surprisingly awful. He sounded like he was reading his lines for the first time, not performing his final show. I really thought it was billed as a comedy, not the least bit funny. Very disappointing.
Kirstin London Box Office customer
Definitely one to watch .
cheryl London Box Office customer
Loved it!
Aleksandra London Box Office customer
perry at his best
Brilliant to see Matthew Perry in his debut play. He was funny and witty and the cast were excellent. A must see for all Perry fans! Hope to see much more from him in the future!
kate London Box Office customer
Funny!
Thais London Box Office customer
Great to see an Icon
Edward London Box Office customer
Entertaining
It takes 15 or 20 minutes for the storyline to appear but then it grips you and is entertaining and emotional. However if you don't like swearing you should give it a miss.
Philip London Box Office customer
Heartfelt performance
Matthew Perry is excellent and gives a believable performance . If swearing offends you - this is not the show for you!
Julie London Box Office customer
Hilariously funny!
A very funny and at times tear-jerking play. Very cleverly done. Only downfall was the fact my mum was next to me listening to all the inappropriate bits!!
Chloe London Box Office customer
Just OK
Ilias London Box Office customer
Entertaining and funny
The show was laugh out loud funny with some great one-liners. Matthew Perry was very 'Chandler' but that's no bad thing - just a bit on the shouty side and the music was too loud too. It felt like watching a sitcom on the stage which is fine by me! Thoroughly entertaining - just don't expect Pinter and you won't be disappointed.
Liz London Box Office customer
Histerically brilliant deep funny show
Well worth a watch for what I paid for the tickets £20 each view was brilliant was I have quiet short legs anyone much taller may have felt cramp
Paul London Box Office customer
The end of longing
The show was thought provoking, well acted and very entertaining. There were well timed moments of humour entwined within some hard hitting and emotional performances. Loved it.
rod London Box Office customer
Excellent show
Excellent fun show! Matthew Perry at his best! Loved it!
Bernie London Box Office customer
Very funny.
Very funny, good story.
Sharon London Box Office customer
Entertaining and like watching a live sitcom
Penelope London Box Office customer
Well written very funny
A well written comedy.
steve London Box Office customer
New
harry London Box Office customer
Fantastic
Very well written, this story has laugh out loud times and is packed full of funny moments. It is also serious in parts and very poignant. The four talented actors were very engaging and worked well together to tell the story of 2 sets of friends brought together to experience and share parts of their lives, both good and bad.
debi London Box Office customer
Amazing show!
I really enjoyed the show! Matthew Perry is a legend! He played very well :). Definitely a must-see! And ignore the negative reviews ;)
Sandy London Box Office customer
Must see
Very funny, Matthew Perry was brilliant
Claire London Box Office customer
Very funny as expected
The writing was good comedy was dry and sarcastic the performance was great thoroughly enjoyed
Christopher London Box Office customer
Intense
Fun and intense and close to reality
Della London Box Office customer
Really great performance from all involved!!
Rosie London Box Office customer
Extended good sitcom
Although not classic theatre, the play was well done, funny and thought provoking.
Paul London Box Office customer
Great play, would recommend
Really great play. Dark humour with lots of laughs. All actors were amazing and kept the audience entertained. Would recommend.
Nikki London Box Office customer
Funny, dark and brilliant
Great piece of writing by Matthew Perry. Seemed a bit autobiographical but in a good way. Lot of swearing in so not suitable for anyone under 16. Some great laugh out loud moments and some sad and thought provoking bits too. Matthew's final scene on stage on his own was outstanding! Other actors were great too.
Deborah London Box Office customer
Brilliant touching and funny
A dark comedy well worth seeing heartwarming and honest.
Andrew London Box Office customer
Matthew Perry, need we say more?
LAURA London Box Office customer
Gritty
Older, more cynical flavour of Friends
Matthew London Box Office customer
Matthew Perry's awful theatre debut
The show was highly anticipated, but a few days before going to see it I saw how it had been slammed in the reviews. However this didn't really deter me since often reviewers are looking for something more than basic entertainment. I happened to really enjoy 'Viva Forever' which was on last year, despite its terrible reviews. Basic is absolutely the key word here! The plot was like a sitcom with no substance, there was nothing behind the plot or behind the lines. Perry was the worst actor out of the four, he seemed to shout all his lines, which were all in the same exaggerated Chandler-esque tone. There was no emotion or conviction to them, making the story line incredible hard to become invested in. I mean congratulations to Perry, it is some feat to make a problematic child birth scene so completely unemotional. The fact that every line was a substandard joke made the genuinely funny lines unnoticeable (admittedly there were few.) All in all it was a disappointing show, which was a shame considering me and my boyfriend were really looking forward to it as our valentines weekend treat, and we don't normally treat ourselves that often.
Nancy London Box Office customer
Brilliant!
I don't know why some critics have given this show a poor review, I thought it was funny and well written, hats off to Mathew Perry!
Diane London Box Office customer
Disappointing
Left after the internmission after the first act, not recommended.
mark London Box Office customer
Enticing!
Guhan London Box Office customer
Must see
With a sharp line and twisted essentials:)
Alina London Box Office customer
Ok
Seana London Box Office customer
Well acted and full of humor america n comedy
Roberto London Box Office customer
12 Feb 2016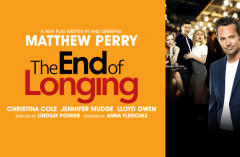 I make a point of trying to see the positive in everything I review unless the piece is lazy and cynical. THE END OF LONGING is lazy, cynical and cruel. It's a first play by Matthew Perry who starred in the world's best loved U.S TV sit-com, FRIENDS, in the 1990s.
13 Jan 2016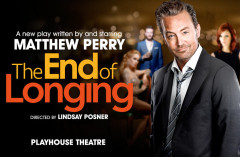 Is anyone looking forward to THE END OF LONGING, the new play by and starring Matthew Perry who found fame, many years ago as the handsome Chandler in TV's FRIENDS?
Candid shots of him on the streets of London cruelly suggest his good looks are long gone and these days he's a bloated figure with receding hair. Nothing wrong with that, age is tough on everyone but with young Matthew Perry on our TV's in reruns of the 1990 sitcom every single day there are likely to be people disappointed that today's Matthew Perry looks like he might have eaten Chandler.
07 Dec 2015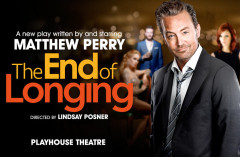 The American sit-com FRIENDS which ran from 1994 to 2004 has been a permanent background to our lives ever since it captured the world with its vision of loveable and witty twentysomethings starting their adult lives in Manhattan. It's repeated across the globe, all the time, on satellite TV channels and is as popular as ever with young viewers.
It's big news then that one of the stars, Matthew Perry, best known for playing Chandler Bing in the highly rated, critically acclaimed series, is to take the lead in a new West End production of his own play, THE END OF LONGING at the Playhouse Theatre.
Use the search box at the top left of this page to search for The End Of Longing tickets availability.
Quick Facts
Largest Ticket Inventory in the West End
Real time seat availability
Your booking is processed directly into the box office reservation system
Collect your tickets from the theatre for free or get them posted to your address.

Theatre Address
Playhouse Theatre
Northumberland Avenue, London, WC2N 5DE GB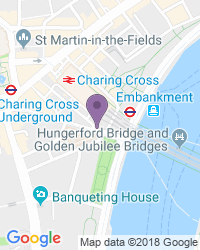 Facilities
Air conditioned
Bar
Disabled toilets
Infrared hearing loop
Member of Q-Park scheme
Toilets
Wheelchair/scooter access
Theatre Info
Capacity: 790
Year built: 1882