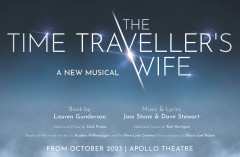 The Time Traveller's Wife: The Musical is due in the West End at the magnificent Apollo Theatre, a world premiere promising just as much entertainment as the brilliant book, which delighted millions with its extraordinary plot. With Music and Lyrics by Joss Stone and Dave Stewart, the anticipation is already mounting. Performances begin on 7th October 2023.
Who's involved in The Time Traveller's Wife: The Musical
The show's producer Colin Ingram is a West End legend thanks to his work on Back to the Future the Musical and Grease the Musical. This musical, inspired by the best-selling novel by Audrey Niffenegger and the New Line Cinema film movie from Bruce Joel Rubin, arrives in the West End after a sold-out season at Storyhouse in Chester. The London opening night is 1st November 2023.
Book by Lauren Gunderson
Original music and lyrics by Joss Stone and Dave Stewart
Additional music by Nick Finlow
Additional lyrics by Kait Kerrigan
Directed by Bill Buckhurst
David Hunter will star as Henry
Joanna Woodward will play Clare
Both stars reprise their Chester roles
Further casting is to be announced
Designed by Anna Fleischle
Choreography by Shelley Maxwell
Lighting design by Lucy Carter
Illusions by Chris Fisher
Video design by Andrzej Goulding
Sound design by Richard Brooker
Musical supervision and arrangement by Nick Finlow
Orchestrations by Malcolm Edmonstone
Wigs, hair and make-up design by Susanna Peretz
Casting will be by Grindrod Burton Casting
It will be produced by Colin Ingram, InTheatre Productions, Gavin Kalin Productions, Teresa Tsai, Crossroads Live, by special arrangement with Warner Bros. Theatre Ventures
Buy The Time Traveller's Wife: The Musical Tickets
Buy cheap The Time Traveller's Wife: The Musical tickets from us for great customer service. Pick the best views using our detailed Apollo Theatre seating plan. Then simply show your etickets at the door on the day to discover a romance so unusual you'll never forget it.
About the Apollo Theatre
The Apollo Theatre is a theatreland classic dating back to February 1901, beautifully restored and one of the glittering stars of Shaftesbury Avenue. Since it opened it has showcased everything from award-winning plays, musicals, and dramas to popular comedies. Upcoming shows at the Apollo Theatre include Derren Brown's Showman, and the amazing For Black Boys.