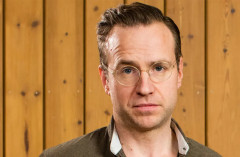 As reported here, when it was revealed that the smash hit Broadway production of Alan Sorkin's adaptation of TO KILL A MOCKINGBIRD was to transfer to the West End I was surprised to see that Rhys Ifans was announced in the lead role of the crusading lawyer, Atticus Finch. Surprised because the role on Broadway has been played by Hollywood A-lister, Jeff Daniels.
Engaging though Rhys Ifans is, he hardly has the box office pulling power of his transatlantic counterpart. So I'm not surprised to see that Ifans name has been dropped from the press release in favour of a new Atticus Finch, Rafe Spall. According to Ifan's Wikipedia page the switch is due to scheduling conflicts.
Rafe who? You might ask. And that would be a fair question, I think even the actor himself would confess that he hasn't quite had his breakthrough role to make him a household name.
He is the son of an actor who certainly had that moment. Dad, Timothy Spall became a celebrity when he starred in AUF WIEDERSEHEN, PET a TV smash hit that was a TV staple the 1980s. He then went on to notch up an extraordinary body of work, playing many memorable characters for the celebrated director, Mike Leigh including a recent award winning performance as the painter, J.M.W Turner.
Whether we have heard of his son Rafe or not he has certainly had an extraordinary career so far. Perhaps he is best known for his work with the film maker Edgar Wright for whom he's appeared in films like SHAUN OF THE DEAD, HOT FUZZ and THE WORLDS END alongside Simon Pegg and Nick Frost.
His TV career has also been very healthy and even if you don't know the name you might recognise him from playing regular leading roles in TV shows like THE SALISBURY POISONING, THE WAR OF THE WORLDS, BLACK MIRROR and as the title character in HARRY PRICE: GHOST HUNTER.
He is no stranger to the theatre either. Recently he appeared in THE DEATH OF ENGLAND by Roy Williams at the Royal National Theatre and I remember him very vividly playing Judge Brack in HEDDA GABLER, also at the NT, in 2016. Brack is often a stuffy, middle-aged character, Spall brought a younger, hungrier sexuality to the role and it worked all the better for it.
He also made a big impression in the Broadway transfer of BETRAYAL by Harold Pinter as well as in one of two very demanding roles in the premier of CONSTELLATIONS by Nick Payne at The Royal Court Theatre.
It's great news that this versatile actor is now going to helm one of the most talked about Broadway transfer of the year. Perhaps it will finally bring him the name recognition he deserves.