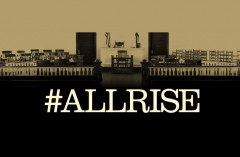 This is dramatization of one of the most powerful and widely read novels of the 20th Century. As a snap shot of racial tension in 1930's Alabama it's still widely taught as an introduction to the inequality and injustice Americans of colour still face today. It's also a storming court room drama, inhabited by vivid characters that will have you on the edge of your seat with suspense if you don't already know the outcome.
What's the TO KILL A MOCKINGBIRD story?
The plot is set in rural, depression era America. It centers around small town lawyer Atticus Finch and his children, when Atticus is called upon to defend Tom Robinson, a black man who has been accused of raping a young white woman. The community lines up for and against a fair trial and are observed in vivid detail by the lawyer's daughter Scout.
Who are TO KILL A MOCKINGBIRD's stars and creative team?
A-list actor Jeff Daniels played Finch on Broadway so we were expecting an actor of similar stature to take over the role when the production moved to London. Instead it was announced that London's Atticus would be played by Rhys Ifans (On Bear Ridge, King Lear). It hasn't been announced yet whether he will still lead the company for the new post-Covid dates.
Director Bartlet Sher's previous and recent work in the West End includes The King and I at the London Palladium, Oslo at the National and Harold Pinter Theatres, while other Broadway hits include My Fair Lady at Lincoln Center Theatre.
Writer Aaron Sorkin's credits include the Emmy Award-winning TV show The West Wing, and the films Steve Jobs and The Social Network. He also adapted his 1989 play A Few Good Men into an Academy Award-winning film.
The creative team for To Kill A Mockingbird includes designer Miriam Buether, costume designer Ann Roth, lighting designer Jennifer Tipton, sound designer Scott Lehrer, and the play has an original score by Adam Guettel.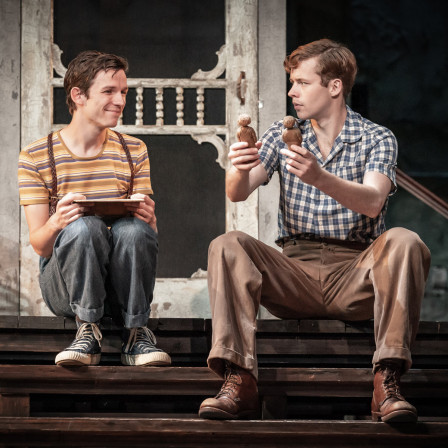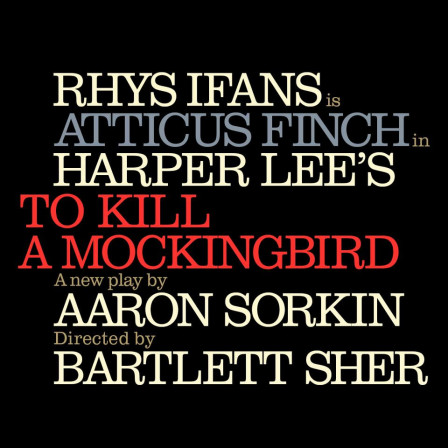 Frequently asked questions about TO KILL A MOCKINGBIRD
Where and when can I see TO KILL A MOCKINGBIRD?
Who is TO KILL A MOCKINGBIRD for?
The piece deals with adult themes but through the eyes of a teenage girl giving us a production that can be enjoyed by all ages from 14 and up.
Where is the TO KILL A MOCKINGBIRD theatre?
The Gielgud Theatre is in the very heart of the West End on Shaftsbury Avenue. Charing Cross Station is 550m and Piccadilly Circus 250m away. Busses: 14, 19, 38 stop outside the venue.
Is there a dress code?
No, dress comfortably and as you would for any public space.
Fun facts about TO KILL A MOCKINGBIRD
This new adaptation by Aaron Sorkin (The West Wing) currently holds the records for the most successful play in Broadway history.
The production recently played to an audience of 18,000 schoolchildren as part of a special Madison Square Garden performance in New York City.