35-37 Shaftesbury Avenue, London, W1D 6AR GB
Quick Facts
Largest Ticket Inventory
in the West End
Real time
seat availability
Choose
your seats
Your booking is processed directly into the box office reservation system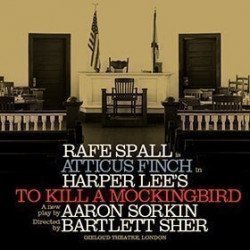 To Kill A Mockingbird
Tickets
4.8/5
-

based on

20

reviews
Booking until: Saturday, 17 December 2022
Running time: 2 hours 50 minutes (One interval)
Tickets from £27.00
Book tickets
Information
Cheap Tickets
Reviews
News
About To Kill A Mockingbird
Performance Times
Booking until: Saturday, 17 December 2022
Running time: 2 hours 50 minutes (One interval)
To Kill A Mockingbird description
To Kill a Mockingbird – A Classic at the Gielgud Theatre
Were you one of the millions of British children who read To Kill A Mockingbird at school, perhaps as one of your O'Level texts? Maybe you've seen the 1963 film starring Gregory Peck, directed by Robert Mulligan with screenplay by Horton Foote? It's a classic of its times and still stands as an unusually brilliant movie, even though it was made in black and white at a time when colour movie technology was readily available. The book is loved by millions, the movie still thrills us when it turns up on TV, now it's time for the stage play... and it's on the way to London for the first time.
To Kill a Mockingbird, transfers from Broadway to the Gielgud theatre for Spring 2020, following a smash hit Broadway run that garnered the show an awe-inspiring nine nominations for Tony awards. Thanks to Aaron Sorkin's brand new production thousands more of us will be able to experience a plot that has fascinated and delighted readers and audiences for almost a century... so far.
When it was first published Harper Lee's incredible novel won the Pulitzer Prize. It also proved controversial in an America whose southern states still segregated black from white until fairly recently, remaining shockingly racist for far too long. And it ended up on plenty of banned book lists for many years as a result. In fact this story has a long history of censorship, coming seventh place in the American Library Association's top ten most challenged and banned books list for 2017, challenged for its honest depictions of the violence, offensive language and racism of the time when it was set.
The plot was inspired by the author's own childhood in Alabama and follows Atticus Finch and his six year old daughter, Scout. Atticus Finch is one of the great heroes of American literature, an impressive symbol of honesty and compassion in a cruel world, in a racist town where the residents seem to reject compassion at every turn.
This isn't the first time the book has been adapted. There have been multiple stage adaptations as well as the Academy Award-winning film and the one by Christopher Sergel, which played the UK from 2006 on and off until 2014. But this new version sees things in a fresh light. Atticus is no longer the shining beacon of goodness we all know and love, and we'll leave it at that so we don't spoil it for you!
No wonder this play has gathered nine Tony nominations, winning one for Performance by an Actress in a Featured Role in a Play, and has also won a Drama Desk Award plus an Outer Critics Circle Award. It's totally amazing. The cast? To Kill a Mockingbird London stars Rhys Ifans for definite, the rest will be announced nearer the time.
Who is this show for? When a previous version played at The Barbican in 2015 there was an age limit of 7 or more, which seems sensible bearing in mind the story and the context.
Next Performances for To Kill A Mockingbird at the Gielgud Theatre
today
17th Aug 2022
2:00pm
today
17th Aug 2022
2:30pm
today
17th Aug 2022
7:00pm
today
17th Aug 2022
7:30pm
tomorrow
18th Aug 2022
7:00pm
tomorrow
18th Aug 2022
7:30pm
To Kill A Mockingbird cheap tickets
We have a great selection of cheap To Kill A Mockingbird tickets. We can help you save up to 70% on To Kill A Mockingbird tickets! If you're looking for discount theatre tickets have a look below for our latest offers for To Kill A Mockingbird at the Gielgud Theatre.
There are no special offers available at the moment but we still have great ticket prices for To Kill A Mockingbird at the Gielgud Theatre.
To Kill A Mockingbird reviews
4.8 out of 5
based on

20

reviews
What to expect:
Acting
Music
Costumes
Story
Lighting
Recommended for:
Anyone (80%)
Families (80%)
Teenagers (95%)
Couples (90%)
Theatregoers (95%)
Latest customer reviews

Amazing
Reviewed on 07 August 2022 by Milan, London, United Kingdom

Magnificent
To Kill A Mockingbird has been one of my favorite books for many years, and I have been a fan of Aaron Sorkin since my many rewatches of "The West Wing." This play takes the themes and plot of the book and presents it in such an engaging way. It's truly a must see. The acting was superb. I've seen a lot of shows and this is by far one of the best. Excellent work.
Reviewed on 04 August 2022 by Ariana, Columbus, United States Of America

Reviewed on 22 July 2022 by Patricia, Donegal, Ireland

Great show
Reviewed on 09 July 2022 by Markus, Stuttgart, Germany

A Title for My Review
I really liked it.
Reviewed on 06 July 2022 by Chris, Plymouth, United Kingdom

Great emotive story
Reviewed on 25 June 2022 by Michael, Belfast, United Kingdom

Great adaptation. Rafe Spall was amazing, and all acting very good. Must see!
Reviewed on 16 June 2022 by Alexandra, Grande Prairie, Canada

Fantastic show
We visited the show - two adults and two teenagers (14/13) we all absolutely loved it, fantastic acting all round and even though Ralf Spall was not in it, the main character was superb - wonderful show
Reviewed on 03 June 2022 by Michael, Harrogate, United Kingdom

Entertaining
Great show with added humour but never losing the importance of the plot
Reviewed on 29 May 2022 by David, March, United Kingdom

To Kill a Mocking Bird
On stage pianist blocks the view for those at the right hand side in the stalls front rows.
Reviewed on 27 May 2022 by John, Lifford, Ireland

Wonderful and powerful performance
Reviewed on 26 May 2022 by Ramonda, Black Earth, United States Of America

Wonderful acting but Sorkin is a little too preachy
The acting, set design and costumes were outstanding. I loved the self-referential narrative by the three kids who were wonderfully engaging. I didn't enjoy Aaron Sorkin's revisions of the script that hit the audience over the head with the moral. The novel does it so much better. Calpurnia's criticisms of Atticus were incredibly jarring as was Bob Ewell's intellectual comments about race and America generally. You can't put 2022 sensibility into 1930s characters' mouths.
Reviewed on 18 May 2022 by Elaine, Newtownards, United Kingdom

True to the book
Reviewed on 11 May 2022 by Carol, Grantown-on-spey, United Kingdom

Beautiful enhancement of the original book
I saw this play last night. I appreciated the multifaceted black characters (they were more active than in Harper Lee's book, as I remember it) and the total relevance to today's race relations and gender expectations. Very moving, as I'd expect from Aaron Sorkin, because it's so well-acted and it's creatively done — but not so creative that the time it's set in can be forgotten.
Reviewed on 27 April 2022 by Jennifer, San Francisco, United States Of America

Amazing!
Reviewed on 16 April 2022 by Navodhya, Bristol, United Kingdom

I haven't been to a play for decades (my bad) - usually musicals. I left this production stunned. It was magnificent, absolutely magnificent. It made me think 'if you want to see proper acting' this is it'. Stunning performances. And I should have known it would be a good production if Mr Sorkin was involved but it blew me away. Breathtakingly brilliant. And the sets! Wow! Genius, absolute genius. An experience I'll never forget. Thank you all so much, congratulations to everyone involved.
Reviewed on 10 April 2022 by Ed, Ashford, United Kingdom

Must see
Reviewed on 26 March 2022 by Carlos, Cascais, Portugal

Amazing. Must see
So enjoyable. Fantastic production
Reviewed on 23 March 2022 by Aoibheann, Roscommon, Ireland

All Rise - all inspiring
The play was close to the original story of 'To Kill A Mocking Bird', yet a story for our time. The dramatic licence taken with the production made it very watchable for those who hadn't read the original text. The humour was an added dimension. The acting right across the board was superb.
Reviewed on 19 March 2022 by Ruth, Ballymoney, Co Antrim, Ni, United Kingdom