35-37 Shaftesbury Avenue, London, W1D 6AR GB
Quick Facts
Largest Ticket Inventory
in the West End
Real time
seat availability
Choose
your seats
Your booking is processed directly into the box office reservation system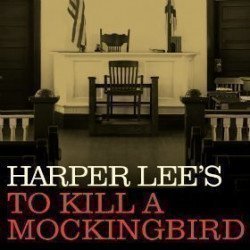 To Kill A Mockingbird
Tickets
Opens: Thursday, 27 May 2021
Booking until: Saturday, 6 November 2021
Running time: 2 hours 35 minutes (One interval)
Starring: Rhys Ifans
Tickets from £29.75
Coming soon
About To Kill A Mockingbird
Performance Times
Opens: Thursday, 27 May 2021
Booking until: Saturday, 6 November 2021
Running time: 2 hours 35 minutes (One interval)
Starring:
Rhys Ifans
To Kill A Mockingbird description
To Kill a Mockingbird – A Classic at the Gielgud Theatre
Were you one of the millions of British children who read To Kill A Mockingbird at school, perhaps as one of your O'Level texts? Maybe you've seen the 1963 film starring Gregory Peck, directed by Robert Mulligan with screenplay by Horton Foote? It's a classic of its times and still stands as an unusually brilliant movie, even though it was made in black and white at a time when colour movie technology was readily available. The book is loved by millions, the movie still thrills us when it turns up on TV, now it's time for the stage play... and it's on the way to London for the first time.
To Kill a Mockingbird, transfers from Broadway to the Gielgud theatre for Spring 2020, following a smash hit Broadway run that garnered the show an awe-inspiring nine nominations for Tony awards. Thanks to Aaron Sorkin's brand new production thousands more of us will be able to experience a plot that has fascinated and delighted readers and audiences for almost a century... so far.
When it was first published Harper Lee's incredible novel won the Pulitzer Prize. It also proved controversial in an America whose southern states still segregated black from white until fairly recently, remaining shockingly racist for far too long. And it ended up on plenty of banned book lists for many years as a result. In fact this story has a long history of censorship, coming seventh place in the American Library Association's top ten most challenged and banned books list for 2017, challenged for its honest depictions of the violence, offensive language and racism of the time when it was set.
The plot was inspired by the author's own childhood in Alabama and follows Atticus Finch and his six year old daughter, Scout. Atticus Finch is one of the great heroes of American literature, an impressive symbol of honesty and compassion in a cruel world, in a racist town where the residents seem to reject compassion at every turn.
This isn't the first time the book has been adapted. There have been multiple stage adaptations as well as the Academy Award-winning film and the one by Christopher Sergel, which played the UK from 2006 on and off until 2014. But this new version sees things in a fresh light. Atticus is no longer the shining beacon of goodness we all know and love, and we'll leave it at that so we don't spoil it for you!
No wonder this play has gathered nine Tony nominations, winning one for Performance by an Actress in a Featured Role in a Play, and has also won a Drama Desk Award plus an Outer Critics Circle Award. It's totally amazing. The cast? To Kill a Mockingbird London stars Rhys Ifans for definite, the rest will be announced nearer the time.
Who is this show for? When a previous version played at The Barbican in 2015 there was an age limit of 7 or more, which seems sensible bearing in mind the story and the context.
14

Jan
2020

6 of the Best 2020 Shows You Should Book in Advance: Rhys Ifans in TO KILL A MOCKINGBIRD
by Phil Willmott | Tuesday, January 14 2020, 20:10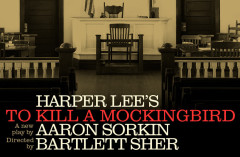 There are certain shows that you know will sell out fast either because of the title or the creative team and stars. In a series of 6 articles we report on the likely box-office smashes of the forth coming year so you can book in advance and not miss out. Use our search engine at the top of the page to find the perfect performance to suit you and get booking!
6 of the Best 2020 Shows You Should Book in Advance: Rhys Ifans in TO KILL A MOCKINGBIRD
02

Jan
2020

Critic Stuart King Looks Back on his 10 Favourite Productions of 2019
by Stuart King | Thursday, January 2 2020, 10:23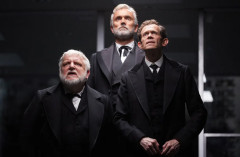 During a politically turbulent year, London has once again played host to an eclectic mix of theatrical productions and despite continuing monetary constraints, has enabled many and diverse creative talents, to flourish.
Among the plethora of new and revival plays and musicals at fringe and West End venues this year, here is this reviewer's personal Top 10 which deserve mentioning.
Critic Stuart King Looks Back on his 10 Favourite Productions of 2019
06

Dec
2019

TO KILL A MOCKINGBIRD: Harper Lee's seminal novel is set to take the West End by storm in 2020
by Josephine Balfour-Oatts | Friday, December 6 2019, 16:17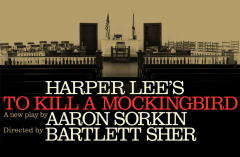 Fresh from a hugely successful run on Broadway, Aaron Sorkin's adaptation of Harper Lee's To Kill A Mockingbird passes its torch to London's West End. An inital disturbance prior to its opening (a legal dispute concerning a breach of contract) has seen the endvaour plagued by controversy. What does spring 2020 hold for its UK cast? Be the first to find out - tickets go on general release today, Friday 6th December.
TO KILL A MOCKINGBIRD: Harper Lee's seminal novel is set to take the West End by storm in 2020