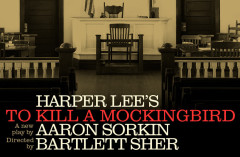 There are certain shows that you know will sell out fast either because of the title or the creative team and stars. In a series of 6 articles we report on the likely box-office smashes of the forth coming year so you can book in advance and not miss out. Use our search engine at the top of the page to find the perfect performance to suit you and get booking!
There are a few novels which undoubtedly changed history and are so ingrained in popular culture that it's hard to imagine life without them. Harper Lee's Pulitzer Prize-Winning American classic TO KILL A MOCKINGBIRD is one such title.
Written at a time of even worse racial tension in the U.S than now it deals with the lawyer Atticus Finch's court room defence of a young black man. The humanity and wisdom of his words (he's based on Lee's father) resonated loud and clear across the world and everything is seen through the eyes of Scout, a teenage version of the author. Its depiction of injustice defeated by kindness and bravery makes it irresistible.
The estate who control the valuable rights to all things Harper Lee are famously protective of how it's presented. For years they've only permitted productions of their stodgy authorised dramatisation although director Tim Sheader managed to bring it to life in a clever way.
Many feathers were ruffled when it was announced that Aaron Sorkin, best known for putting tough, wise-cracking dialogue into the mouths of politicians and media types in TV shows like THE WEST WING, was to pen a new version for Broadway.
But fear not, everyone state-side has loved the finished play and I anticipate it'll also be a big hit here when it moves to the West End later this year.
Broadway had Jeff Daniels as Finch. We're getting British star Rhys Ifans. I'd say we're getting short changed there but let's wait and see. The director Bartlett Sher is one of the cleverest guys in New York Theatre so I doubt he'd cast Ifans if he wasn't 100% sure the actor would do a great job.
Considered one of the great classics of modern literature, TO KILL A MOCKING BIRD has never been out of print since its original publication. With a title that loved this show is bound to sell out fast.
Take advantage of our great ticket deals. You don't want to miss fiction's trial of the 20th Century.