Quick Facts
Largest Ticket Inventory
in the West End
Real time
seat availability
Choose
your seats
Your booking is processed directly into the box office reservation system
This show is now closed.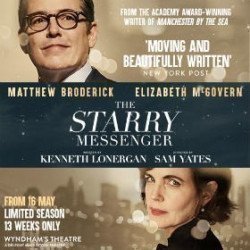 The Starry Messenger
Tickets
3.9/5
-

based on

54

reviews
Starring: Elizabeth McGovern, Matthew Broderick
Information
Cheap Tickets
Reviews
News
About The Starry Messenger
Performance Times
Starring:
Elizabeth McGovern, Matthew Broderick
The Starry Messenger description
The Starry Messenger – Starring Matthew Broderick
In the vastness of the universe, are we all just lonely souls under the same night sky? It's a big question, potentially the biggest question of all. This delightful play explores the life of Mark Williams, an astronomer at New York City's Planetarium and a man who doesn't believe in fate... but whose life is changed forever by it. Welcome to The Starry Messenger.
This is a superb bittersweet comedy-drama, in which the Hollywood star and multiple Tony Award-winning Broadway legend Matthew Broderick shines bold and bright as the main character. And this is his West End debut, believe it or not. You'd think he'd been born on the London stage.
What's the story?
Mark Williams is a man who's lost. As a scientist he feels much more comfortable with the distant, chilly stars than he does to the job he's supposed to be doing, and even his wife Anne fades into relative insignificance compared to the heavens.
As you can imagine Mark has no time for fate, faith or divine intervention. But the universe thinks differently, and he's helpless in the face of its power. When he meets Angela, a young single mother, he thinks maybe the stars have actually aligned for the first time. But then things go catastrophically wrong, badly pear-shaped, and he finds he has to re-evaluate his life, the universe and everything.
Elizabeth McGovern from Downton Abbey and The Handmaid's Tale stars alongside Broderick in a brave, bold dissection of what love means, what hope means, and what it means to come to a personal understanding about our place in a vast, empty universe.
Kenneth Lonergan is the Academy Award-winning writer of Manchester By The Sea and one of the best-respected writers of our times. He's responsible for the magical Gangs of New York, which he co-wrote, and for writing and directing You Can Count On Me, Margaret. He has won numerous well-deserved awards and his work has delighted and entertained many thousands, if not millions of us over the years.
Matthew Broderick played David Lightman in the Cold War thriller WarGames and Leo Bloom in the Broadway production of The Producers. He played a brilliant John Brown in Inspector Gadget and he's the winner of plenty of coveted awards including two Tony Awards, one for Best Featured Actor in a Play for Brighton Beach Memoirs and another for Best Actor in a Musical in How to Succeed in Business Without Really Trying. He remains the youngest ever winner of a Tony for Best Featured Actor in a Play.
As the New York Times said, the play "Re-establishes Mr. Lonergan, who hasn't had a new play on the boards since 2001, as a possessor of all the crucial parts of a good dramatist's anatomy: a critical mind, an empathetic heart and a musical ear that hears whole lives in sentences. And Mr. Broderick delivers his finest, most affecting performance in years."
Who is this show for?
The subject matter means children will probably not enjoy the play much. It's written for adults.
The Starry Messenger cheap tickets
We have a great selection of cheap The Starry Messenger tickets. We can help you save up to 70% on The Starry Messenger tickets! If you're looking for discount theatre tickets have a look below for our latest offers for The Starry Messenger at Wyndham's Theatre.
-36%
Was £27.50
Now £17.50
Valid on all performances until 10 Aug 2019.
-42%
Was £47.50
Now £27.50
Valid on all performances until 10 Aug 2019.
-30%
Was £67.50
Now £47.50
Valid on all performances until 10 Aug 2019.
-21%
Was £97.50
Now £77.50
Valid on all performances until 10 Aug 2019.
-16%
Was £125.00
Now £105.00
Valid on all performances until 10 Aug 2019.
The Starry Messenger reviews
3.9 out of 5
based on

54

reviews
What to expect:
Acting
Music
Costumes
Story
Lighting
Recommended for:
Anyone (24%)
Families (26%)
Teenagers (26%)
Couples (50%)
Theatregoers (72%)
Latest customer reviews

What?
I didn't really get the point of the story! Definitely well acted and funny in parts, emotive. But overall I left thinking had missed the point.
Reviewed on 27 February 2020 by Helen, London, United Kingdom

Very enjoyable
It was a pleasure to see what wonderful performances. There was a great mix of humor and drama.
Reviewed on 11 August 2019 by Krystal, Macon, United States Of America

Excellent
Reviewed on 08 August 2019 by Jane, Tadworth, United Kingdom

Broderick shines
Matthew Broderick was brilliant! This is not a comedy per se, btw. It certainly takes a dramatic turn later in the play.
Reviewed on 31 July 2019 by Rasmus Holmen, Bronshoj, Denmark

Very boring
Boring from the start through to the end. The story had potential to develop into something more dramatic and interesting but never gets there. Acting was robotic and lacking depth, except perhaps a few scenes when the wife and girlfriend got angry or upset. Best scenes involved the old man in hospital and the set design was good. Very disappointed.
Reviewed on 28 July 2019 by Simon, London, United Kingdom

Dreary self-indulgent mess
See title. Don't bother.
Reviewed on 23 July 2019 by John, West Vancouver, Canada

Entertaining
Good story well played by all, good choice of cast for the respective roles. Volume a little subdued on occasion, but on the whole easy to follow. Transition between sets cleverly done with atmospheric lighting and music that well complimented the scene changes. Enjoyable show.
Reviewed on 22 July 2019 by Philip, Loughborough, United Kingdom

A slow start but it held my interest
The play gathered pace an interest after a slow and quite boring start. However, it did engage my interest and there were some humorous moments as well as some poignant ones. It contrasted the enormity of the universe against man's smallness although some of the issues that the characters dealt with were huge - (unexpected death) as well as an existential crisis. Not a must see - and very long - but I'm glad I saw it.
Reviewed on 19 July 2019 by Paula, Cape Town, South Africa

Are we still stuck in the 20th century?
While this show is excellent in terms of acting, staging, lighting, and even the writing, I was disappointed with the story itself. The female characters (although excellently portrayed by a stellar cast) were full of sexist clichés, and the men were all there to save the day and 'have it all'. This would have been forgivable, if somewhat cringey, if it was a play of an era. But as a play written in the 21st century, even if it was set in the 20th, I was disappointed. Can't we be done adding to the pile of stories portraying women as feeble, weak, naive, hysterical, unintelligent and controlling?
Reviewed on 18 July 2019 by Georgia, Paris, France

Fantastic play, superb actors, Broderick delivers a masterclass in acting, a career best!
Reviewed on 16 July 2019 by Stefan, Frechen, Germany

Beautiful performances
Reviewed on 16 July 2019 by Eftychia, Athens, Greece

Must see
Reviewed on 11 July 2019 by Gita, New Delhi, India

Well acted. Enjoyed my evening
Reviewed on 10 July 2019 by Lydia, Congleton, United Kingdom

Thought provoking
Reviewed on 07 July 2019 by Kathleen, Cincinnati, United States Of America

Understated but a real gem of a play
There's no shouting, bells and whistles or overly dramatic interludes. Mathew Broderick's performance is quietly assured, the poignant script replete with under the surface messages. Subtly affecting, makes one (especially those going into humdrum middle aged tedium) think, reflect and ponder about life, where we are in the universe and where we want to go...
Reviewed on 07 July 2019 by Wan Norman, Ampang, Malaysia

Sense of a purpose
Reviewed on 05 July 2019 by Christian, Aberdeen, United Kingdom

Melancholy and the stars of our lives
This play is just beautiful inside out. It beams starry light to the corners of our minds. Matthew Broderick's melancholy is contagious and let you think about your own path. The acting is so beautiful, especially Mr Broderick and Ms Eleazar.
Reviewed on 05 July 2019 by Lenka, London, United Kingdom

No meaning what so ever
Reviewed on 28 June 2019 by Mariia, Amsterdam, Netherlands

Subtle Problems of Mid-Life Masculinity
About the subtle changes in the min male character, who begins as very bland.
Reviewed on 28 June 2019 by Clement, Ann Arbor, United States Of America

Funny and poignant
Reviewed on 26 June 2019 by Phyllis, Melbourne, Australia

Dull and stilted
I found the show dull and the acting stilted. The show felt disjointed and whilst there was the odd humerous line Matthew did not engage with either his colleagues or the audience. Distictly underwhelmed. Left at the interval as no interest in see the outcome.
Reviewed on 25 June 2019 by Gregory, Corby, United Kingdom

Boring Play
The play was slow and ponderous with a few funny lines but developed extremely slowly and did not seem to end anywhere. We stayed to the end only because we hoped it would get better but alas that was not the case. I would not recommend this to anyone.
Reviewed on 25 June 2019 by Pamela, Horsham, United Kingdom

A little slice of life
May not be to everyone's taste but I loved this - moved at a nice pace, good jokes and silence when needed, really liked the sets too
Reviewed on 23 June 2019 by Tony, Solihull, United Kingdom

This was a well delivered mix of some thought provoking messages with interspersed light hearted lines in the right places. The performances by these seasoned actors kept me engaged. I thoroughly enjoyed the evening.
Reviewed on 22 June 2019 by Jeffrey, Santee, United States Of America

Thoughtful
Overall I enjoyed the play and would recommend it to others particular those theatregoers that enjoy seeing something to think about rather than just "entertained". The main character was very complex as were the other two supporting characters and the play left me with plenty of food for thought about relationships and the workings of the universe. On the negative side I felt the play was a little too long and very much a slowburner. A bit too ponderous. Perhaps a little more light relief could have been injected via the students who were well played,with humour and easy to relate too.
Reviewed on 14 June 2019 by Shelley, London, United Kingdom

Depth and breadth on an intimate scale
Not for lovers of slapstick, but a slow-burning, very dry comedy which plays to Broderick's finely tuned skills, rich acting throughout, and a searing drama that sneaks up on you, relieving the comedy while exploring the universe through the intimate unfolding of one man's mid-life crisis. Superb theater.
Reviewed on 13 June 2019 by Barry, New York, United States Of America

good acting and a great text!
Reviewed on 12 June 2019 by Carolina, AlcobaÇa, Portugal

Reviewed on 11 June 2019 by Linda, King's Lynn, United Kingdom

Don't waste your time
See something else - waste three hours at home or doing something else- v disappointed
Reviewed on 08 June 2019 by Nadine, London, United Kingdom

A moving and thought provoking piece of theatre
If you like to be challenged by theatre and are willing to let the piece slowly unfurl you will love this magnificent play by Kenneth Lonergan
Reviewed on 08 June 2019 by Jenny, London, United Kingdom

Very bad
We should have left before the second half the show was terrible
Reviewed on 07 June 2019 by Lynne, Anstead, Australia

No flow
A meandering script with lots of threads that were never pulled together. There was no flow and the dialogue was often awkward and unnatural.
Reviewed on 03 June 2019 by John, Mamer, Luxembourg

What happened
a real disappointment, sat through the show but others in our row of seats did not return after the break. Lack of human chemistry among actors.
Reviewed on 01 June 2019 by Monique, Farnborough, United Kingdom

Lost sock in the laundromat of oblivion
Mark is an astronomer having a mid-life crisis, wry and downbeat, mild-mannered and put-upon. A young student walks into his life and the inevitable happens. That would all be very pedestrian but Kenneth Lonergan brings emotional depth to everything he touches and Mark's predicament really resonates. He's an unlikely Lothario and raises the eyebrows of colleagues in the faculty, as well as testing the sympathy of the audience, especially when wife Ann (Elizabeth McGovern) is hardly a ballbuster. It doesn't end exactly happily (and there is a shocking tragedy in Act 2), but at least on a note of redemption. Terrific performances all round and quite a few laughs amid the sadness.
Reviewed on 31 May 2019 by Andrew, London, United Kingdom

Great Writing and Acting, Deep Themes, Funny
Wonderful turn by Matthew Broderick (and the entire cast) in this complex and moving look at how we search for and try to make meaning in our lives at a time when both religion and science offer little or no solace for our fears about death and existence. Often quite funny, the laughs are generated by the absurdity of life itself.
Reviewed on 27 May 2019 by Jennifer, Oakland, United States Of America

A story of ordinary lives beautifully interpreted by a cast of great actors.
Reviewed on 25 May 2019 by Elena, Cisliano, Italy

Boring show, poorly acted
I purhased these tickets based on the well know actors in the show but was very disappointed. I found the story line boring, the acting very wooden and it seemed like their timing was also off on the night.
Reviewed on 20 May 2019 by Lisa, Albury, Australia

Very slow start. Second act picks up and pulls the show through.
Reviewed on 19 May 2019 by Nancy, Reston, United States Of America

Different
Reviewed on 19 May 2019 by Wendy, London, United Kingdom

Reviewed on 18 May 2019 by Louise, Davenport, United States Of America
06

Jun
2019

Review: The Starry Messenger at Wyndham's Theatre
by Kit Benjamin | Thursday, June 6 2019, 09:31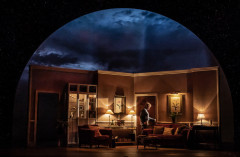 Mark Williams (Matthew Broderick) is a disappointed, middle-aged astronomy teacher but not (as we are frequently reminded) an astronomer: In other words, he is in the gutter but looking at the stars. Or, if not in the gutter, at least in an unfulfilling marriage.
Review: The Starry Messenger at Wyndham's Theatre
18

Jan
2019

One of Broadway's royalty is headed to London's West End
by Phil Willmott | Friday, January 18 2019, 10:20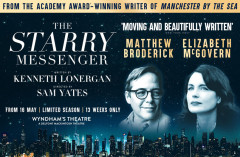 Matthew Broderick is to star opposite Elizabeth McGovern in Academy Award-winner Kenneth Lonergan's The Starry Messenger.
One of Broadway's royalty is headed to London's West End