Northumberland Avenue, London, WC2N 5DE GB
Quick Facts
Largest Ticket Inventory
in the West End
Real time
seat availability
Choose
your seats
Your booking is processed directly into the box office reservation system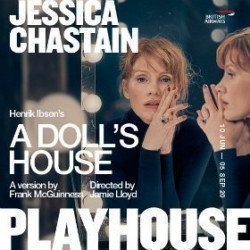 A Doll's House
Tickets
4.8/5
-

based on

9

reviews
Booking until: Sunday, 5 September 2021
Starring: Jessica Chastain
Tickets from £18.00
Coming soon
About A Doll's House
Important Information
12 August 2020 – Audio Described Performance
19 August 2020 – Captioned Performance
Performance Times
Booking until: Sunday, 5 September 2021
Starring:
Jessica Chastain
A Doll's House description
A Doll's House – Starring Jessica Chastain as Nora
Everyone's on the edge of their seats looking forward to the brand new season directed by Jamie Lloyd at the Playhouse theatre. And this, Ibsen's A Doll's House, is in the capital for the summer of 2020. It stars the two-time Academy Award nominee Jessica Chastain, who plays Nora, on stage in Britain for the first time. It's a fresh version of the play by Frank McGuinness, and it comes with immaculate creative credentials. What a treat!
A Doll's House – The story
This extraordinary play caused a real scandal when it was first published in 1879. At the time in Norway, very like here, there were few if any chances for married or single women to enjoy fulfilling lives in a male-dominated world. No wonder it caused such a widespread storm of controversy.
This plot tells the story of a woman who struggles to navigate the misogynistic world she's trapped in. It's being billed as a fresh interpretation of a classic that remains, sadly, as relevant as ever a hundred and forty or so years after it was written. True equality remains something to aim for.
In 2006, the centennial anniversary of the playwright's death, A Doll's House became the world's most performed play of the year. The inspiration was a woman called Laura Kieler, Ibsen's good friend. Laura wanted money to find a cure for her husband's TB and wrote to Ibsen, asking him to recommend her work to his publisher so she could sell her book. The publisher refused so she forged a cheque and was found out. Her husband discovered the 'crime', divorced her and committed her to an asylum. Two years later she was released and went on to become a respected author. Ibsen wrote the play at the time she was sent to the asylum.
About Jessica Chastain
The wonderful Jessica Chastain is known and loved for award-winning screen performances. They include a Golden Globe winner of a role in Zero Dark Thirty and a stunning Academy Award-nominated performance in The Help. This is her West End debut.
Who is this show for?
A Doll's House is recommended for people aged 11 or more.
A Doll's House reviews
4.8 out of 5
based on

9

reviews
What to expect:
Acting
Music
Costumes
Story
Lighting
Recommended for:
Anyone (33%)
Families (33%)
Teenagers (44%)
Couples (78%)
Theatregoers (100%)
Latest customer reviews

Stunning Hattie!
Hattie Morahan was sensational in this show. Sadly yesterday was the end of the season!
Reviewed on 27 October 2013 by Anonymous

A truly memorable and uplifting theatrical experience
This was a stunning production, a real privilage to have witnessed. As a lad of fourteen in 1953, I saw Mai Zetterling in the role of Nora at the Lyric Hammersmith and became a devoted fan. However, Hattie Morohan's portrayal last night was simply spell binding, a master class. However, it would be remiss of me to not heap equal praise on the whole cast and production team who made our journey down from the Cotswolds so rewarding and memorable. My wife and I cannot thank you all enough. We wish you every success in all your future endeavours, Sincerely, Victor S Bennie
Reviewed on 25 October 2013 by Anonymous

thought provoking
Thought provoking show highlighting marital discord. Not recommended for those experiencing relationship issues
Reviewed on 24 October 2013 by Anonymous

A Doll's House is mesmerising
Reviewed on 20 October 2013 by Anonymous

Ibsen
Usually I find Ibsen sleep inducing. Not so in this stunning production of Doll ' s House. Brilliant acting, sets, modern and relevant feel despite set in ibsens time. Loved it, and didn't zzzzz once!
Reviewed on 13 September 2013 by Anonymous

Never thought Ibsen could be so riveting!
Excellent acting and top direction. Fantastic all round
Reviewed on 07 September 2013 by Anonymous

A superb production of a well known but endlessly seeable play.
Reviewed on 30 August 2013 by Anonymous

Extremely competent production although first hallf was slightly too long.
Reviewed on 29 August 2013 by Anonymous

An excellent production
We enjoyed this production very much. Pity the start was delayed by technical faults.
Reviewed on 10 August 2013 by Anonymous
27

Jan
2020

Jessica Chastain To Make Her UK Stage Debut In A DOLL'S HOUSE
by Josephine Balfour-Oatts | Monday, January 27 2020, 09:42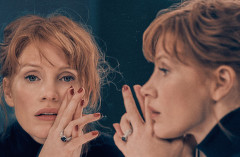 It's true! Jessica Chastain is London-bound this summer, and set to star in a new adaptation of A Doll's House at The Playhouse Theatre. You heard it here first.
Jessica Chastain To Make Her UK Stage Debut In A DOLL'S HOUSE