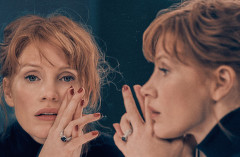 It's true! Jessica Chastain is London-bound this summer, and set to star in a new adaptation of A Doll's House at The Playhouse Theatre. You heard it here first.
This summer is sure to be a mighty one in Theatreland. Among the Broadway transfer of To Kill A Mockingbird – the highly-anticipated adaptation stage production of Harper Lee's seminal novel – starring Rhys Ifans at the Gielgud and Sunday In The Park With George, perhaps the most talked about theatrical event of 2020, will be a new reimagining of Henrik Ibsen's A Doll's House. With Jessica Chastain in the principal role of Nora, it seems that the West End is set to be less of a sunny space, and more of a starry one.
Running at The Playhouse from 10th June-5th September, A Doll's House will be part of director Jamie Lloyd's new season at the theatre. The production follows in the wake of both Cyrano de Bergerac (Martin Crimp's new adaptation of Edmond Rostand's 1897 comedy), now starring James McAvoy and playing until the 29th of February and The Seagull (running from 11th March-30th May), a modernisation of Anton Chekhov's classic by Anya Reiss, with Emilia Clarke (Game of Thrones) in the leading role. Here, Chastain makes her West End debut as Nora, Ibsen's complex – and somewhat controversial – heroine.
As a wife and mother, Nora is famous for her transgressive nature – for superseding those expectations thrust upon her body and intellect as a result of her womanhood. Nora's plight has fuelled many an artistic licence over the years. More recently, Tanika Gupta's reimagining of A Dolls House at The Lyric, Hammersmith saw Ibsen's narrative relocated to colonial India in 1879. Now adapted by the renowned Frank McGuiness (The Factory Girls, Dolly West's Kitchen), with design by the incredible Soutra Gilmour (Inadmissable Evidence, Antigone), A Doll's House is looking to be yet another success in Lloyd's creative canon.
Chastain is a prominent figure in contemporary Hollywood, with a Golden Globe Award and two Academy Award nominations to her name. While she is known most prominently for her on-screen roles in The Help and Zero Dark Thirty, Chastain also made her Broadway debut in The Heiress in 2012, for which she was recognised with critical acclaim. As this is her first UK stage appearance, tickets will be selling-out fast. Be sure to book quickly to avoid disappointment!
Tickets from £11.90, subject to high demand