12 Palace Street, London, SW1E 5JA GB
Quick Facts
Largest Ticket Inventory
in the West End
Real time
seat availability
Choose
your seats
Your booking is processed directly into the box office reservation system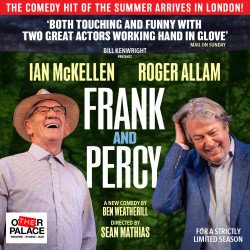 Frank and Percy
Tickets
4.9/5
-

based on

22

reviews

from

22

verified reviews
Booking until: Sunday, 17 December 2023
Running time: 2h 15m (incl. interval)
Starring: Ian McKellen, Roger Allam
Tickets from £46.00
Tickets refunded if your event is cancelled
Real time seat availability
Largest ticket inventory in the West End
Secure online booking
Information
Cheap Tickets
Reviews
News
About Frank and Percy Tickets
Starring:
Ian McKellen, Roger Allam
Frank and Percy description
Frank and Percy Tickets
Take two legendary British actors. Stir in lots of comedy. Add a handful of poignancy. What do you get? Frank and Percy is a deliciously amusing and touching play exploring the unexpected relationship that develops between two very different men; a widowed schoolteacher and an elder statesman.
Frank and Percy tickets – A dazzling new comedy
Experience two brilliant acting legends on stage as Ian McKellen and Roger Allam meander through a play exploring the fragility and joy of human relationships and the things that create and strengthen the bonds connecting us.
This fresh new comedy hits The Other Palace Theatre in Autumn 2023, a production packed with wit and fun, and a two-hander to remember. The play's premiere proved a smash hit at the Theatre Royal Windsor during the summer, then it transferred to Bath. Now two of the nation's best-loved National Treasures are taking the play to the West End for a strictly limited season.
See Roger Allam and Ian McKellen in Frank and Percy
Roger Allam and Ian McKellen make a splendid creative partnership as they reveal their blossoming relationship, a friendship rich in warmth and wit. No wonder they're billed as a couple of our best-loved and acclaimed acting talents.
Roger Allam has won three Oliviers and lit up the stage in the original West End production of Les Misérables, and delighted TV audiences with roles in TV shows as different as the political farce The Thick Of It, the detective series Endeavour and the world-class Game of Thrones. Ian McKellen has also starred on stage and screen, with his Academy Award-nominated role of Gandalf in the movie The Lord of the Rings and a number of cracking Shakespeare plays under his belt.
All about Frank and Percy – Top quality eavesdropping
If you've ever seen a couple of old blokes sitting on a park bench chatting, you'll find Frank and Percy pretty familiar. The play eavesdrops on their chats about the weather, their beloved dogs, each other, and ultimately a lot more than you might expect. The resulting relationship is warm and heartfelt, but will it lead to more than friendship?
The Evening Standard says Frank and Percy has both 'bark and bite', which bodes well for a plot revealing the lovely magic we find in the least expected places. The result is charming, enthralling, and very funny.
Who is on the Frank and Percy Creative Team?
The original creative team remains in place for the theatreland transfer, including playwright Ben Weatherwill and director Sean Mathias. The set and costume design is by Morgan Large, the lighting design by Nick Richings, and the sound design is by Andy Graham.
Tickets for Frank and Percy Available Now
This gorgeous two-man play is not to be missed, a chance to see two acting greats on stage together. It's clear McKellen and Allam are in their element collaborating live on stage, and you get the feeling they really are old friends. Buy tickets for Frank and Percy from us for an excellent choice of quality seats at prices you'll love.
Useful Information
Booking until:


Sunday, 17 December 2023

Running time:


2h 15m (incl. interval)

Age restrictions

Important Information


Contains strong language, sexual references, and discussions of bereavement and cancer.
Performance Times
Next Performances for Frank and Percy at The Other Palace
today
30th Nov 2023
7:30pm
tomorrow
1st Dec 2023
7:30pm
Saturday
2nd Dec 2023
2:30pm
Saturday
2nd Dec 2023
7:30pm
Sunday
3rd Dec 2023
2:30pm
Tuesday
5th Dec 2023
7:30pm
Frank and Percy cheap tickets
We have a great selection of cheap Frank and Percy tickets. We can help you save up to 70% on Frank and Percy tickets! If you're looking for discount theatre tickets have a look below for our latest offers for Frank and Percy at The Other Palace.
More weeks added
Exclusive savings on selected Frank & Percy tickets
Frank and Percy reviews
4.9 out of 5
based on

22

reviews
What to expect:
Acting
Music
Costumes
Story
Lighting
Recommended for:

Theatregoers (91%)
Latest customer reviews
Brillant acting. A must!
Reviewed on 29 November 2023 by Sonia, Frankfurt, Germany
Absolutely fantastic!
This show was wonderful! Hilarious and touching, I would recommend it to everyone. Just loved it!
Reviewed on 15 November 2023 by Alison, Bristol, United Kingdom
Masters of their craft. What a pleasure to watch.
Reviewed on 12 November 2023 by Margaret, Reading, United Kingdom
Romance with gentle humour
Ian McKellen and Roger Allam just wonderful. I loved their characters and they kept my attention for the whole play.
Reviewed on 12 November 2023 by Deborah, Carshalton, United Kingdom
Top billing !
Two older hands really enjoying themselves and putting on a show makes a great evening.
Reviewed on 11 November 2023 by Iain, Vaux Sur Morges, Switzerland
Sublime
This is two actors at the top of their game delivering a funny, touching and clever study of relationships and age. It is a real joy to watch and perfect for this small venue. Wow
Reviewed on 02 November 2023 by Stephanie, London, United Kingdom
Brilliant
Wonderful show, funny, poignant - you really believe in it. Thoroughly recommend it
Reviewed on 27 October 2023 by Claire, Farnborough, United Kingdom
Must see!
Reviewed on 08 October 2023 by Des, Wimbledon, United Kingdom
Birthday Celebration
Absolutely fabulous play. Cried at the end the acting was exceptional it was my 60th birthday gift. I chose the play and it was everything and more. Thank you
Reviewed on 05 October 2023 by Ray, New Mills, United Kingdom
Made my year
I've always wanted to see Ian McKellen…absolutely brilliant!!! My husband and I thoroughly enjoyed the play…laughed and cried. The actors were fantastic. Loved the script and the staging. Lovely theatre and friendly staff.
Reviewed on 28 September 2023 by Hilary, Stewartstown, United Kingdom
Seating Spoilt the experience
The show was good but was spoilt by the worst seating arrangements. So uncomfortable for tall people with no room to move at all during the performance
Reviewed on 24 September 2023 by Jan, Hemel Hempstead, United Kingdom
Brilliant performance , funny , sad , thoughtful but mostly funny
You will Never see two more brilliant actors telling this love story full of pathos and laughter . Sitting close , in the third row , we lived every happy and sad intimate moment, Wonderfully written . Do not miss you will enjoy .
Reviewed on 24 September 2023 by Sallyanne, East Grinstead, United Kingdom
Reviewed on 21 September 2023 by Roy, Ocala, United States Of America
Adult but 'Must see if you enjoy "theatre"
Excellent acting - naturally! Brilliant story. Well produced,directed and overall, BRILLIANT. Will appeal to Adult audiences who are not squeamish about Homosexuality and the Rainbow population. Very sensitively depicted. Only one word for it - EXCELLENT! Glad I saw it!
Reviewed on 13 September 2023 by Geetoo, London, United Kingdom
Not to be missed
They gel so well together, a perfect match. I felt l was wrapped in a warm blanket, enjoyed every minute, well done.
Reviewed on 12 September 2023 by Christine, Sunderland, United Kingdom
Very funny show performed by two excellent actors
The show is very funny and entertaining - in a small intimate theatre. Highly recommended.
Reviewed on 09 September 2023 by Christina, Ferring, West Sussex, United Kingdom
29

Nov
2023

November Monthly Roundup
by Emmie Newitt | Wednesday, November 29 2023, 14:05
This month brought some very exciting London theatre news; including a long-awaited cast announcement for one of the biggest shows coming in 2024 and a West End transfer that we are so excited for! Here's our November Roundup for you: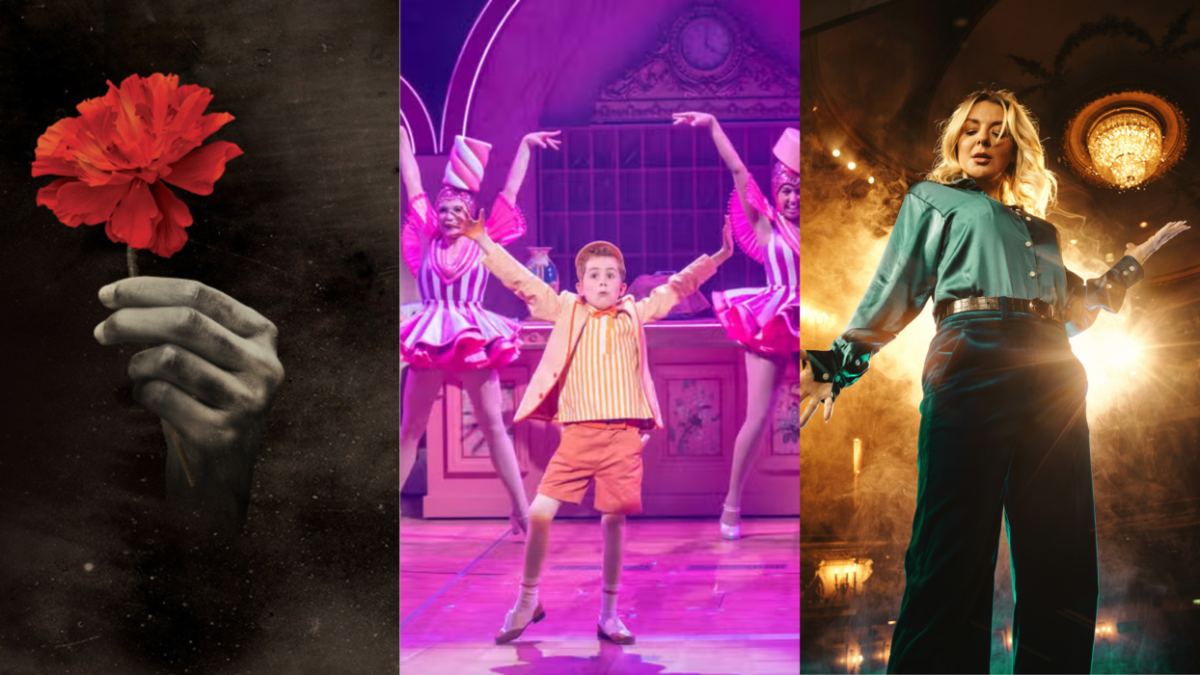 Hadestown, The Witches and Opening Night.
November Monthly Roundup
14

Aug
2023

FRANK AND PERCY to open at The Other Palace
by Emmie Newitt | Monday, August 14 2023, 11:31
The new comedy hit of the summer is heading for a limited season at The Other Palace.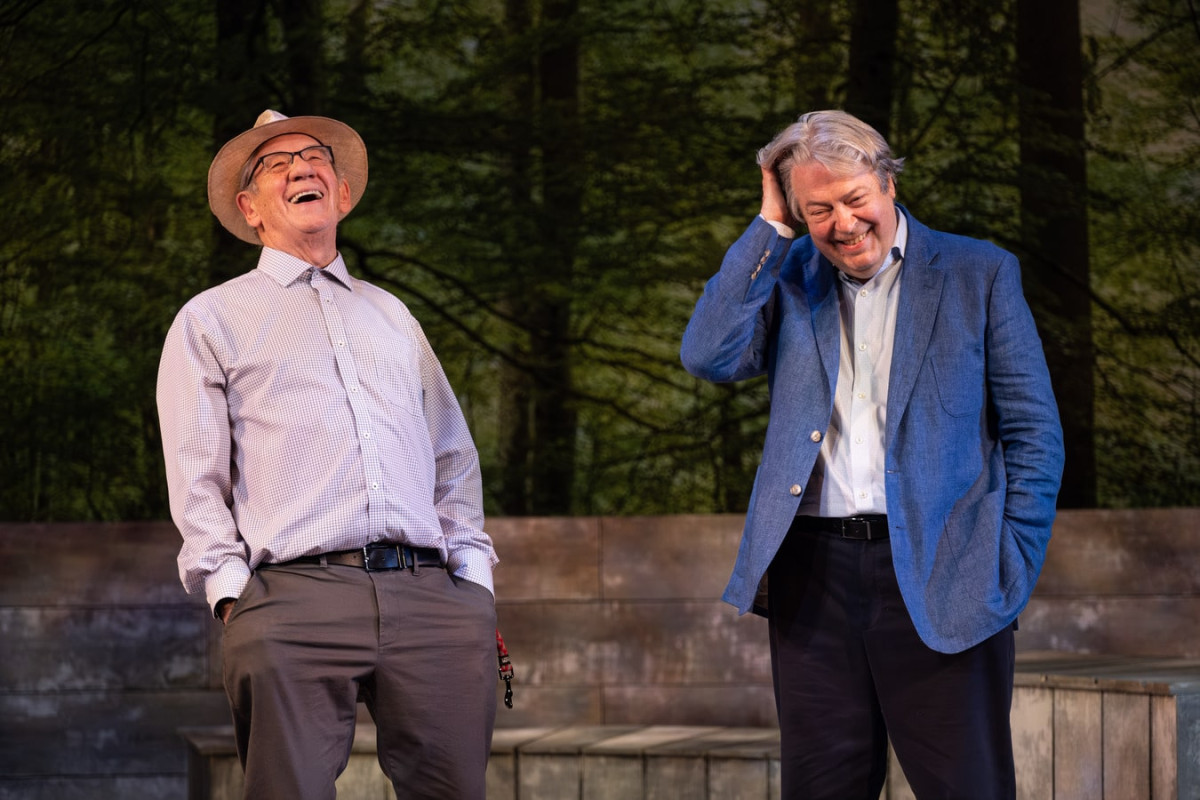 Ian Mckellen and Roger Allam in Frank and Percy. Credit Jack Merriman.
FRANK AND PERCY to open at The Other Palace