Quick Facts
Largest Ticket Inventory
in the West End
Real time
seat availability
Choose
your seats
Your booking is processed directly into the box office reservation system
This show is now closed.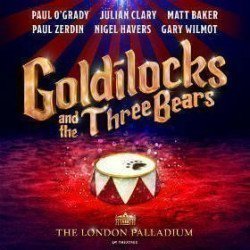 Goldilocks and the Three Bears
Tickets
4.9/5
-

based on

17

reviews
About Goldilocks and the Three Bears
Performance Times
Goldilocks and the Three Bears description
Goldilocks and the Three Bears – Heavenly for the kids!
The festive season means panto... and this year's super-special West End extravaganza is a story adored by millions of people since it was first told in 1837. The venue is the massive, magnificent London Palladium, an event to remember in itself. And the cast is absolutely superb, a whole load of glittering awesomeness designed to thrill. No wonder tickets are set to sell like hot cakes.
Last year the London Palladium put on Snow White and it proved a monster hit. Now, for the fourth consecutive year of festive pantos, the venue is showcasing a fabulously fun panto adaptation of the all-time classic children's story Goldilocks and the Three Bears. It's a brand new version of the 1800s story by Robert Southey, and this time around – probably the zillionth since it was written – it stars Matt Baker, Paul O'Grady, and Julian Clary along with the excellent Sophie Isaacs in the starring role of Goldilocks. If you saw her as Annette Hargrove in Cruel Intentions: The 90s Musical, at the 2019 Edinburgh Festival Fringe, you'll know you're in for a treat.
Julian Clary plays the Good Ringmaster, Paul O'Grady plays the Bad Ringmaster, Gary Wilmot plays Dame Betty, Matt Baker is Joey the Clown, Nigel Havers is Daddy Bear, and Paul Zerdin plays Silly Billy. And, as you can imagine, the tickets, the venue, the players and everything else are 'just right'!
This show takes the old tale to a new level, taking creative liberties and setting the story in a circus instead of the woods. It's young Goldilocks' job, along with her mum, to fight the Evil Ringmaster and his horrible circus acts. Can Goldilocks and her mum win? Come and see. It's such fun, and it's on stage for a limited five week festive season.
It's amazing seeing the London Palladium transformed into a circus, a magical place where everything is possible. This is a feast of dazzling comedy, eye-catching special effects, incredible stunts and brilliant circus acts. You'll love the internationally renowned illusionist Phil Hitchcock, Asia and Dylan Medini and their stunning Skating Medini rollerskating act, 'Rola Bola', from the German Belli Family Circus and Europe's youngest stunt rider, amazing Peter Pavlov and the crazy 'Globe of Speed'.
The story? Dame Betty Barnum and her daughter Goldilocks' circus is under threat from an evil rival circus owner. But with the help of their friends they are determined to save their circus. Will they succeed? Things don't look so good until, at last, three bears come along...
Join the cast and their fabulous ensemble members Charlotte Bazeley, James Bennett, Myles Brown, Samara Casteallo, Belle Kizzy Green, Sally Jayne Hind, Stevie Hutchinson, Ediz Ibrahim, Mollie McGugan, Ella Nonini, Alexanda O'Reilly, Justin Thomas, Amy Thornton, Maxwell Trengove, Charlotte Wilmott and Luke Woollaston. An Olivier award-winning team sits behind the show. Michael Harrison directs, with choreography by Karen Bruce, set design by Ian Westbrook, costumes by a team including Hugh Durrant, visual special effects by The Twins FX, lighting by Ben Cracknell, sound design by Gareth Owen and original music by Gary Hind. We'll see you there!
Who is this show for?
Goldilocks and the Three Bears is recommended for people aged five plus.
Goldilocks and the Three Bears reviews
4.9 out of 5
based on

17

reviews
What to expect:
Acting
Music
Costumes
Story
Lighting
Recommended for:
Anyone (88%)
Families (94%)
Teenagers (88%)
Couples (88%)
Theatregoers (94%)
Latest customer reviews

A real treat!
Best palladium panto yet. Really strong cast, all the stars were amazing especially Paul o'Grady!
Reviewed on 12 January 2020 by Natasha, Hatfield, United Kingdom

every childs fantasy...amazing
it was just as I imagined. Colourful. Funny. Great cast. Great acts in the circus. Loved the motor cycle part scary....but so professional. Loved everything about the panto and will definitely be back ...x
Reviewed on 12 January 2020 by Joyce, Greenford, United Kingdom

The best panto in England
Full of fun and energy. Non stop all through
Reviewed on 10 January 2020 by Colin, Dunstable, United Kingdom

The Pantomime of the year.
A "must see" if you like being entertained.What an amazing presentation of various,first-class talent.
Reviewed on 09 January 2020 by Gilbert, Folkestone, United Kingdom

Constant hilarity
Reviewed on 06 January 2020 by Catherine, Watford, United Kingdom

a magical experience
I booked the show for my grandsons 12th birthday, I did ask if he could be mentioned but they said it was against protocol, which was a shame as he is very theatrical and been on a few shows with his drama group it would of been a magical lifetime memory for him or any other child mentioned on stage, I'm 72 and I remember Ken Dodd as Father Christmas and giving me a present when I was about that age, and seeing Arthur askey singing there is a worm at the bottom of the garden to all the children, magical times, the show was really good and Paul o'grady and Julian Clary are really funny together great performance from the whole crew x😉
Reviewed on 05 January 2020 by Jacqueline, Middlesex, United Kingdom

Fantastic- full of great comedy and colourful costumes.
Reviewed on 31 December 2019 by Philip, Epsom, United Kingdom

Fantastic
Reviewed on 30 December 2019 by Diana, London, United Kingdom

Excellent show
A very good show. little plot but I expected that. It was less dirty than last years show which was to its credit and made it a better show. The innuendos were much better because you had to think about them. The music was very good, professionally done but rather too loud in the auditorium. Excellent stage and lighting presentation.
Reviewed on 30 December 2019 by Tim, Hitchin, United Kingdom

Saucy
This was more of an adult show and may not be suitable for the very young.
Reviewed on 28 December 2019 by Christopher, Wallington, United Kingdom

2019 London Pantomime - Goldilocks and the 3 Bears.
It was my first pantomime and I loved it. I loved the ad lobbing of the actors and the in jokes.
Reviewed on 26 December 2019 by Alison, Auckland, New Zealand

Great entertainment
A wonderful show which made me laugh from start to finish. The whole cast were excellent.highly reccomended
Reviewed on 23 December 2019 by George, Mansfield, United Kingdom

A family treat
Excellent from start to finish.Agood mix of entertainment with good music and wonderful costumes.Lively and full of fun.Roll on next year.Pantomime should never be allowed to die.
Reviewed on 19 December 2019 by Judith, Peterborough, United Kingdom

Fabulous, fantastic, Colourful Show.
Was not sure what to expect but WOW. Enjoyed Everything about the show was some unexpected twists and thrills. Marvellous special effects too.
Reviewed on 16 December 2019 by Anita, Essex, United Kingdom