31 Shaftesbury Avenue, London, W1D 7ES GB
Quick Facts
Largest Ticket Inventory
in the West End
Real time
seat availability
Choose
your seats
Your booking is processed directly into the box office reservation system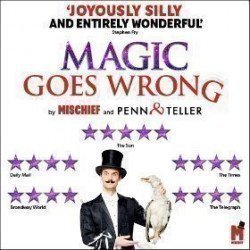 Magic Goes Wrong
Tickets
4.3/5
-

based on

28

reviews
Booking until: Sunday, 27 February 2022
Running time: 2 hours 10 minutes
Tickets from £30.00
Book tickets
COVID secure venue
This venue will utilise social-distancing, increased health and safety measures, temperature checks and more to ensure your visit is safe and enjoyable.
Buy with confidence
Grab the best seats today, in the knowledge that all bookings can be exchanged.
About Magic Goes Wrong
Important Information
Online Venue check-in
: Please note you will be contacted by the venue 48 hours before the performance with instructions on how to check-in and retrieve your e-ticket.
12+
Performance Times
Booking until: Sunday, 27 February 2022
Running time: 2 hours 10 minutes
Magic Goes Wrong description
Magic Goes Wrong – Penn & Teller plus Mischief Theatre
Welcome to the latest 'Goes Wrong' spectacular, this time featuring a magic show that goes completely, utterly and horribly wrong. The amateur magicians involved - a hapless lot if there ever was one – and their ill-fated, accident-studded charity event look like being the funniest thing we've seen for ages. The news on the streets is this combo of magic and comedy is one of the best yet from the Mischief Theatre, so grab tickets while you can.
This is the Mischief's second production in a twelve month residency at the Vaudeville theatre. The show - Magic Goes Wrong – sees the dazzlingly brilliant original company playing a bunch of amateur magicians demonstrating their best tricks at a charity event. The thing is, every time one of their tricks goes wrong, the fundraising target grows.
This is the first time the Mischief has collaborated with outside writers, the household name magicians Penn & Teller, a US duo of magicians and entertainers who've been performing comedy and magic since the 1970s. They've starred in numerous TV shows including Penn & Teller: Fool Us, and Penn & Teller: Bullshit!, and are currently on stage at the Rio in Las Vegas, the longest running headlining act in Vegas' history – they've been doing it since 2001!
Mischief Theatre's artistic director, Henry Lewis, is by all accounts thrilled to work with Penn & Teller, and promises it'll be an experience full of surprises. The show is produced by JJ Abrams, who directed Star Wars: The Force Awakens, and Kevin McCollum. Abrams is by all accounts a huge Penn & Teller fan and someone who adores working with the Mischief Theatre Company, calling it, "pure joy". The pleasure goes on - apparently Penn & Teller are big fans of the Mischiefs, too. Adam Meggido directs and the opening night is in early January 2020.

Teller himself has things to say. When Penn & Teller's magic goes wrong, it's horrible. But when someone else's goes awry, it's the funniest thing. And that's why, "It seems like the perfect project for Mischief and us" according to Teller. He adds, "We're very proud of the results and hope you enjoy the show."

Penned – pardon the pun! - by Penn Jillette, Henry Lewis, Jonathan Sayer, Henry Shields and Teller, this show presents an awe-inspiringly silly evening of 'grand illusion'. You'll laugh your hat off, laugh yourself off your seat, giggle yourself to happy tears. Don't miss it.
Who is this show for?
This show is perfect for people aged 12 and over.
Next Performances for Magic Goes Wrong at the Apollo Theatre
today
26th Oct 2021
7:30pm
tomorrow
27th Oct 2021
7:30pm
Thursday
28th Oct 2021
7:30pm
Friday
29th Oct 2021
7:30pm
Saturday
30th Oct 2021
2:30pm
Saturday
30th Oct 2021
7:30pm
Magic Goes Wrong reviews
4.3 out of 5
based on

28

reviews
What to expect:
Acting
Music
Costumes
Story
Lighting
Recommended for:
Anyone (64%)
Families (71%)
Teenagers (68%)
Couples (82%)
Theatregoers (75%)
Latest customer reviews

Good to see
Some funny slapstick comedy 🤣
Reviewed on 25 October 2021 by Jamie, Stockton On Tees, United Kingdom

Don't bother
Absolutely AWFUL. Very boring, rather stupid and such a disappointment given how much we enjoyed the Play that Goes Wrong. Felt like a lazy effort trying to piggyback of they play's success.
Reviewed on 22 October 2021 by Holly, London, United Kingdom

A waste of money
Awful. We left at half time. It just wasn't funny at all, restricted view seats despite them not being advertised as such. Avoid, avoid, avoid.
Reviewed on 16 March 2020 by Kevin, Devon, United Kingdom

Imaginative magic
This show is meant to disappoint in places - it is a show about disasters after all! The magic comes later, as they take you beyond the trick you thought they were doing, to the one they perform. I would take notice of the safety recommendations; lights, noise, gore & innuendo - not for someone who is at risk from triggers, or the very young. A very enjoyable show with great audience interaction, go prepared to take part.
Reviewed on 15 March 2020 by K, Truro, United Kingdom

Brilliant night out
It was a brilliant fun night out. Very funny and clever with the tricks. Great actors who made it genuinely funny and enjoyable. Highly recommend it.
Reviewed on 13 March 2020 by Susan, Essex, United Kingdom

Non stop action and fun
Loved the apparent ad libs and the audience participation - not so keen on the bum exposure - stupid girly pants would have been just as funny. The mind mangler was the star and we loved the two dancing ladies - in fact they all were brilliant !
Reviewed on 04 March 2020 by Philip, Solihull, United Kingdom

Hilarious
Fantastically funny from start to finish
Reviewed on 01 March 2020 by Xandra, Ashford, United Kingdom

Hilarious
Reviewed on 21 February 2020 by Lucy, Croydon, United Kingdom

A magical night out!
Reviewed on 17 February 2020 by Michelle, Cheadle Hulme, United Kingdom

So bad it's good!!
Reviewed on 15 February 2020 by Julia, Dorset, United Kingdom

A Magical performance
If you've seen The Goes Wrong shows on TV or any of the other stage shows featuring these "AmDram" wonders then this performance will enhance your experience. Some critics have not enjoyed it but audiences have and I would recommend it.
Reviewed on 14 February 2020 by Chris, Norwich, United Kingdom

Great show
Entertaining and funny.
Reviewed on 28 January 2020 by Gill, Plymouth, United Kingdom

A must see.
The show was really enjoyable.
Reviewed on 25 January 2020 by Lesley, Kent, United Kingdom

Funny
Reviewed on 21 January 2020 by Robert, Camborne, United Kingdom

NONSTOPLAUGHS
Did not stop laughing one second, incredible audience inclusion and natural improv feel at these moments. Best show for anyone whether you're an avid theatre goer or not
Reviewed on 19 January 2020 by Charlotte, Coulsdon, United Kingdom

Hilarious
So funny and very clever! We couldn't stop laughing, even on the train going home. Must book to see it again.
Reviewed on 19 January 2020 by Kathy, Bexleyheath, United Kingdom

Bit disappointing
Having been very impressed with play / robbery goes wrong was expecting something clever and unique. This was more of a family pantomime that you'd appreciate in your local school or village hall -but not in an expensive West End show. Plenty of audience interaction but not much magic. They need to reset the bar when planning their next show.
Reviewed on 05 January 2020 by Nilesh, South Heath, United Kingdom

Never laughed so much
Wow wow wow. You did it again. What a great show for young and old alike. Great cast. Handled hecklers well. Would recommend to everyone
Reviewed on 05 January 2020 by Susan, Worksop, United Kingdom
22

Jan
2020

Review: MAGIC GOES WRONG at the Vaudeville Theatre
by Josephine Balfour-Oatts | Wednesday, January 22 2020, 15:04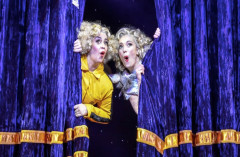 Hit company Mischief Theatre put their comedic sorcery to the test in Magic Goes Wrong, their latest addition to the London stage.
Review: MAGIC GOES WRONG at the Vaudeville Theatre