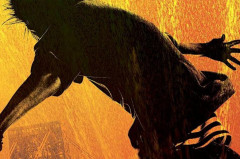 This week: The Daily Mail, Baz Bamigboye, Whatsonstage, A Christmas Carol at the Noel Coward Theatre, In the Heights in the West End, and more.
In the Daily Mail Baz Bamigboye has reported that film star Jim Broadbent will work with innovative theatre director Phelim McDermott, co-founder of the Improbable Theatre Company on a production of A Christmas Carol for the Noel Coward Theatre later this year.
Their last collaboration was pretty ropey, a best forgotten attempt to stage the cult horror film Theatre of Blood at the National Theatre. On that occasion Broadbent was beset with illness and for me his underpowered performance was a stark contrast to his exuberant appearances in films like Moulin Rouge and The Cloud Atlas.
But he does seem perfect casting for the role of the eccentric miser, Scrooge, who mellows when visited by ghosts in Charles Dickens' seasonal favourite, so fingers crossed.
---
The flashing banner currently dominating the whatsonstage website claims that the musical In the Heights will be revived in the West End. The article is short on detail and doesn't even say if it refers to last year's production at Southwark Playhouse but I wouldn't be surprised. The producer of that revival, Paul Taylor Mills, is one of UK theatre's greatest optimists and a prestigious hard worker and wheeler dealer.
In the Heights is a wonderful, heart-warming musical which depicts the Hispanic community who live in the shadow of the Washington Bridge in New York and follows their gentle adventures during the course of a power cut. This celebration of community spirit and NYC's Hispanic music and culture enjoyed a lengthy Tony award winning run on Broadway with that same community keeping the box office buoyant and a series of TV talent show winners making popular debuts. I enjoyed it very much.
But can it work commercially in London where there isn't a big Spanish contingent to buy tickets? It certainly got everyone buzzing at Southwark and I can imagine being in that intimate theatre and in close proximity to those wonderful songs was an amazing experience.
Let's hope there are enough people who want to see it at West End prices and it's winning atmosphere can be recreated in a larger venue but investors must be worried by the fate of Scottsboro Boys and Spring Awakening both hit Off-West End musicals which struggled to find enough fans to fill bigger theatres.
---
The best places to find out advance information about productions that have yet to be announced is Baz Bamigboye's column in the Daily Mail.
The satirical magazine Private Eye has recently questioned the ethics of these scoops which it claims are less about clever journalism and more about producers feeding the paper "exclusives" in return for cheap advertising. This is also common practice at whatsonstage, an ex employer of the website revealed recently via Facebook.
In the past I've read some complete rubbish from both these sources about productions I've been involved in so I'm inclined to treat anything I read with healthy scepticism but in the case of two recent stories that the Daily Mail and whatsonstage have featured, predicting revivals of musical In the Heights and a new adaptation of A Christmas Carol starring Jim Broadbent, I hope they're true.