Quick Facts
Largest Ticket Inventory
in the West End
Real time
seat availability
Choose
your seats
Your booking is processed directly into the box office reservation system
This show is now closed.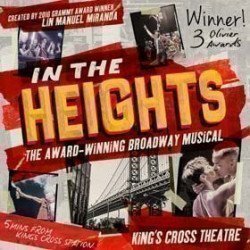 In The Heights
Tickets
4.5/5
-

based on

56

reviews
About In The Heights
Performance Times
In The Heights description
In The Heights – The story
In New York's Hispanic community Washington Heights, Usnavi is the owner of a popular bodega. He's truly, madly and deeply in love with the deliciously pretty and intelligent Vanessa, who works in a local beauty salon, and he's desperate to go back to his home country, the Dominican Republic, to open a bar and enjoy the good life.
In the meantime Nina is just as much in love with shy Benny, who has worked for her parents for years. Her father doesn't approve – he wants more for his precious daughter, having worked hard to provide her with a good education and decent prospects.
Nina is studying at exclusive Stanford University and while she doesn't want her dad to bankrupt himself paying her fees, he's prepared to go for broke and sell his business to cover the costs. When Abuela Claudia, who raised Usnavi when his parents died, wins $96,000 in a numbers game, things are set to change forever.
This colourful, vibrant story of what 'home' means to different people has already won numerous awards including the Outer Critics Circle Award for Outstanding New Off-Broadway Musical and an Obie for Lin-Manuel Miranda's thrilling choreography.
It took a Lucille Lortel Award for Outstanding Musical and Outstanding Choreographer. Plus a Clarence Derwent Award, again for Lin-Manuel Miranda, and another for the choreographer from Theatre World.
The musical was also nominated for nine Drama Desk awards and won two of them, making it an un-missable treat for anyone who adores great musicals, legendary choreography, gorgeous show tunes, fabulous costumes, lots of colour, emotion and a feel-good, candy-sweet vibe.
With a host of sing-along latin-influenced songs including In the Heights, Breathe, Benny's Dispatch and It Won't Be Long Now, you'll be singing in your seat, lost in an unforgettable story. See you there – it's tipped as a sell-out so don't leave it too long.
In The Heights tickets
Looking for top-notch or discount In The Heights tickets? We offer excellent availability and equally good value on the full range of ticket types and seats.
In The Heights reviews
4.5 out of 5
based on

56

reviews
What to expect:
Acting
Music
Costumes
Story
Lighting
Recommended for:
Anyone (71%)
Families (73%)
Teenagers (84%)
Couples (86%)
Theatregoers (89%)
Latest customer reviews

96,000 reasons to see this amazing show
Get ready to be transported to Washington Heights where your senses will be bombarded with a carvival of sights and sounds that will make your heart race and your feet want to dance. A place covered in a rich tapestry of characters whose lives will take you on a roller coaster of emotions, taking you from the heady pangs of young love to the wisdom of old age and back again.
Reviewed on 22 December 2016 by Ann, Farnborough, United Kingdom

disappointing
Ridiculously hot auditorium. Unintelligible hip hop style singing. Repetitive melodies, repetitive dances. Loud and, sadly, boring. Decamped at the interval.
Reviewed on 14 November 2016 by Richard, Woodbridge, United Kingdom

Colorful
Reviewed on 06 November 2016 by Magdalena, London, United Kingdom

A must see!
Lin - Manuel Miranda's lyricism is electrifying, the cast are full of the energy and latin flavour that hits the right note ( literally). It was an excellent night, every seat would have been a good seat due to the staging. Great use of the space with minimal but just enough props to bring the story alive. This is great story of immigration, sacrifice and expectations, don't miss this one.
Reviewed on 26 October 2016 by Zoe, London, United Kingdom

highly recommended
i saw the same show in new york 2 years ago and this one is on par with it.
Reviewed on 28 September 2016 by Lillian, Dunoon, United Kingdom

Sheer perfection
Reviewed on 20 September 2016 by Grace, Columbus, United States

Fun night out
A fabulous set, and a great to keep you engage. Definitely a fun night out!
Reviewed on 14 August 2016 by Amy, Saint Joseph, United States

Really Great Show
This was a fantastic production, such energy. The singing and acting was superb.
Reviewed on 06 August 2016 by Clare, Cranfield, United Kingdom

Energetic, vibrant must see
Reviewed on 22 July 2016 by Cheryl, Enfield, United Kingdom

A passionate colorfull spectacle
Reviewed on 18 July 2016 by Lionel, Harrow, United Kingdom

Fun and frolicking!
Reviewed on 13 July 2016 by Rebecca, Newton, United States

Amazing
Love music and dance, favourite song Carnaval, it was so good, would love to go again.
Reviewed on 11 July 2016 by Celine, Hinchley Wood-esher, United Kingdom

Dancing
Th dancing was great!
Reviewed on 20 June 2016 by Rachel, Severna Park, United States

Loved it! The music was great!!
Reviewed on 14 June 2016 by Hilary, London, United Kingdom

Exciting, energetic, beautifully touching story
I saw this show with the original cast - including the genius himself, Lin Manuel Miranda - in New York in 2011 and fell in love. I was initially reluctant to see the London cast as I didn't think anyone could measure up. This show went above and beyond my expectations and did the original show justice while creating its own unique production. I absolutely adore it and won't hesitate to see it again and again!!
Reviewed on 30 May 2016 by Emma, Lake Wendouree, Australia

Must see
Some dodgy accents but fantastic show!
Reviewed on 20 May 2016 by Edward, London, United Kingdom

Vibrant
Thought this was one of the best musicals ever. Brilliant, loved it, would see it again. Want to recommend it to companies in Trinidad who put on shows from time to time.
Reviewed on 11 May 2016 by Diana, London, United Kingdom

Great music and great dancin!
I really enjoyed it! Both the music and the dancing were great!
Reviewed on 04 May 2016 by Marina, Exeter, United Kingdom

Saturday night at the theatre.
We booked to see In the Heights after reading the reviews on the show. It is easy to say we were not disappointed. The entrance to the theatre is very in keeping with the show. The seating on each side of the stage really makes you feel like you are part of the show. All the actors were excellent and gave 100% . We all thought that the show was excellent.
Reviewed on 27 March 2016 by Susan, Burnley, United Kingdom

Highly recommended
Reviewed on 06 March 2016 by Catherine, Feltham, United Kingdom

Latino rap & dance
It was an enjoyable evening, but a lot of the dialogue was lost as the rapping was often unintelligible, although one could keep up with the gist of it. The actress who plays Daniela is the star of the show as she has all the funniest lines and plays the part brilliantly. The singing was first class and the dancing of a very high standard.
Reviewed on 27 February 2016 by Dennis, Gravesend, United Kingdom

musical
Reviewed on 22 February 2016 by Nancy, Croydon, United Kingdom

Very enjoyable show
Got off to a bad start with an half hour delay. But after that it was a very high energy, musical with great dancing and music. Thoroughly enjoyable for the whole family and a couple of the female leads were sizzling hot!!
Reviewed on 18 February 2016 by Ashim, New Malden, United Kingdom

Very contemporary !
Fantastic show only drawback was the gale outside which made the tarpaulin roof sound as if literally the roof would come off.
Reviewed on 07 February 2016 by Fiona, St Peter Port, United Kingdom

Brilliant
Reviewed on 30 January 2016 by Clive, London, United Kingdom

incredible
Reviewed on 30 January 2016 by Jasme, Pinner, United Kingdom

Brilliant musical. Great music, great dancing, great lyricism! A must see! A+++++++++
Reviewed on 29 January 2016 by Samuel, Tonbridge, United Kingdom

Fun and energetic. One of the most impressive performances was actually an understudy/replacement for that performance.
Reviewed on 27 January 2016 by Anne, Oslo, Norway

great perfomance and songs
Reviewed on 25 January 2016 by Anatoli, London, United Kingdom

Good musical in an unusual venue
Reviewed on 20 January 2016 by Mariko, London, United Kingdom

Energetic and powerful. A young talented cast.
Reviewed on 20 January 2016 by Losis, Ealing, United Kingdom

Very creative and colourful.
This is my second time seeing this show. Had to take my sons and they both said it was excellent and want to see it again.
Reviewed on 19 January 2016 by Heather, St. Albans, United Kingdom

Colorful
Latin American feel and music, excellent voices and acting.
Reviewed on 27 December 2015 by Sabine, Northampton, United Kingdom

Very entertaining
Original story, really good show overall. Impressive singers. Also has a lot of humor. Pleasant venue and nice long show. Very entertaining experience.
Reviewed on 19 December 2015 by Vanessa, London, United Kingdom

Must see
Reviewed on 06 December 2015 by Andrew, St- Albans, United Kingdom

A fabulous journey full of energy and love and laughter
This was such a wonderful show, I loved every minute of it. Moreover, the venue was great, I advise to go early so you can hang out a little in the theatre bar, and hang out after the show and you get to have a drink with all the cast. A must see. I will probably go again.
Reviewed on 13 October 2015 by Dominic, London, United Kingdom
19

Oct
2015

Review: IN THE HEIGHTS at the Kings Cross Theatre
by Sarah Mercer | Monday, October 19 2015, 10:10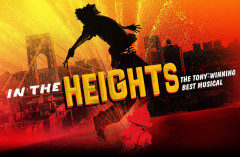 In The Heights is the perfect antidote to a London winter's evening. Fast paced, with a sparkling cast and sizzling dance numbers, it is utterly gripping and entertaining, the King's Cross Theatre providing a portal to the vibrant world of New York City.
Set on one street in the Washington Heights district, In The Heights follows the story of a community trapped in a tug of war, between the harsh reality of survival and their own dreams and aspirations.
Review: IN THE HEIGHTS at the Kings Cross Theatre
13

Jul
2015

The smash-hit UK production of In the Heights returns to London
by Oliver Mitford | Monday, July 13 2015, 12:22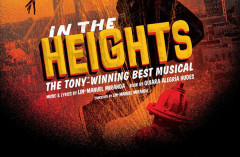 The sell-out UK premiere of Broadway musical In The Heights has announced its return to the London stage, this time at the King's Cross Theatre.
The smash-hit UK production of In the Heights returns to London
07

Jul
2015

This week in the West End...
by Phil Willmott | Tuesday, July 7 2015, 16:55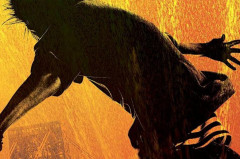 This week: The Daily Mail, Baz Bamigboye, Whatsonstage, A Christmas Carol at the Noel Coward Theatre, In the Heights in the West End, and more.
This week in the West End...