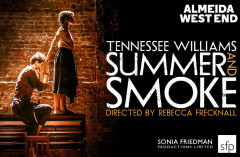 This winter's going to feel a lot hotter in the West End and it's got nothing to do with global warming.
It's because the Almeida Theatre have announced a much anticipated transfer of their production of Summer and Smoke which moves from a critically acclaimed run in their small Islington venue to the Duke of York's Theatre from 10th November to 19th January.
The play is by one of the great masters of 20th century playwriting, Tennessee Williams. He was a gay man writing at a time when homosexuality was illegal in America and had to be kept secret so his stories of heterosexual sexual love pulsate with hidden desire and surprises passion. Add to that the heat of the Southern America towns where his plays are often set and you get tales of smouldering love, hate and heartbreak, the perfect recipe for intoxicating gothic melodrama.
Summer and Smoke is no exception and, as the promotion remind us, "The play is set in Mississippi, where minister's daughter Alma Winemiller lives. The story sees an unlikely romance blossom between her and an unruly young doctor, John Buchanan who lives next door"
Patsy Ferran will continue to lead the Almeida Theatre's cast as Alma with Matthew Needham as John and they will be rejoined by Seb Carrington, Nancy Crane, Eric MacLennan, Forbes Masson, Tok Stephen and Anjana Vasan.
The production is also an opportunity to see the work of Rebecca Frecknall, a brilliant young director who looks headed for a stellar career. This is her "big break" it's gone like a dream and you can expect to hear a lot more of her in the future.