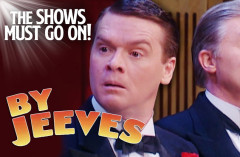 This weekend's free-to-stream Andrew Lloyd Webber musical is BY JEEVES.
The first version of this musical, which brings the genteel, upper-class humour of P G Woodhouse's classic characters to the stage was produced in the West End in 1975.
After the rock music of JOSEPH and SUPERSTAR Lloyd Webber wrote this score in a 1920s style. It was a big flop which hurt the composer deeply. He's since reworked it several times. The streamed show will be the 2001 production, which ran on Broadway after the original show was rewritten. It stars Martin Jarvis and John Scherer.
It's about a butler called Jeeves who save his young master, Bertie, from various scrapes. I've seen two versions and each time it's been about as entertaining as cricket. Indeed whether you like it or not may depend on how much you enjoy the wholesome sport in which very little of interest often happens very slowly.
I'm to remind you "The show is the next in a new series of Lloyd Webber's works that are being streamed for free online while a lockdown of UK households continues, which has seen theatres closed up and down the country".
Watch the show here from Friday 8 May at 7pm BST, where it will be available for 48 hours.