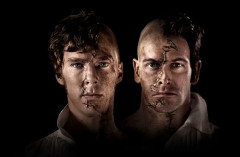 The National Theatre are currently streaming their 2011 stage adaptation of Mary Shelley's 1818 novel FRANKENSTEIN. You can find it on their website.
It was a big deal at the time because not only was it directed by cinema's award winning Danny Boyle in a rare foray into theatre, but it starred Benedict Cumberbatch and Jonny Lee Miller, alternating the roles of Victor Frankenstein and the Creature.
It gave a few lucky people a chance to compare these two leading actors in the same role, if they saw a performance with the casting one way, and then booked to see it again when the actors switched.
Of course at the time not everyone could afford to see it twice to make a "who's best at what part" decision, but now we can all have ago for free via our screens.
The first broadcast released had Cumberbatch as the Creature and Lee Miller as Victor Frankenstein (who creates the beast in his laboratory); in the second broadcast the casting is the other way around.
Both versions will be available to download and compare for a month following the phenomenal success of the first production to be shared in this way, ONE MAN TWO GUVNORS.
I've been working with the video of both productions for a while now as the National Theatre have previously made them available for teaching purposes. As part of an exam I asked my students from Mississippi College to make a considered decision as to which casting works best.
If you watched the first combination you might have grown tired, as I did, of the two actors seemingly yelling all the way through.
For some reason when they switch the whole production improves. Lee Miller is a brooding brute of a creature in a performance of great depth and sadness. Cumberbatch makes the young unhinged scientist far more considered and introspective.
If you only want to watch one version I'd advise you to pick this second one.
Benedict Cumberbatch and Jonny Lee Miller shared both the Olivier Award and London Evening Standard Award for Best Actor for their respective performances. Whilst Cumberbatch also won the Critics' Circle Theatre Awards' Best Performance by an Actor in a Play.