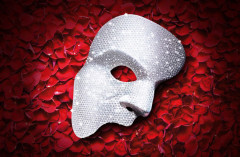 Quite some time ago, back in the pre-virus world as we know it, I was auditioning actors for a musical. Not my favourite thing. These are/were long days of trying to be supportive and encouraging to a new person every ten minutes for up to six hours. On a big show, that's day after day, sometimes for weeks.
On one occasion a guy sang a song, that I didn't think I'd heard before, which stuck in my head all day. It seemed to me to be a perfect example of how to write a musical theatre tune.
It has a strong, simple melody line the finishes each time with a bold lyrical statement that helps to wedge it in your mind even on first hearing.
The chorus tune is so simple (simplicity is fiendishly difficult to compose) that it bears repeating over and over with varying intensity allowing for a build to a grand climax.
It has a gorgeous use of a key change. I lack the musical vocabulary to describe the "science" of this but basically a key change is when, about two thirds of the way through, just before the "big finish" the notes of the tune shift up a gear usually with a swell of intensity in the accompaniment and the passion of the singer.
Used poorly it sounds cheap, cheesy and desperate on the composer's part. Used well, as it is here, it sends shivers up the spine of the listener and quickens the heartbeat.
In this case it's used to dramatic effect but I'll include a video at the end of this piece in which the genius Richard Rodgers uses it to send spirits soaring.
Anyway back to the song in question.
I googled it and to my surprise discovered it was the opening song of ALW's LOVE NEVER DIES, his sequel to PHANTOM OF THE OPERA.
Surprised because although I appreciate and admired the composer I don't usually respond to his work in this visceral way. I'd also seen the show in the West End, gorged on the visuals, but grown bored of the long turgid sections where ALW was aspiring to grand opera. I don't remember the tunes making much impression on me at all.
So I downloaded the Australian production via iTunes. There is was, that gorgeous opening number, sung by the equally gorgeous Ben Lewis, and I loved it loved it over again.
This weekend you can see the whole Aussie production for free (link below). But to get you started here's the UK's LOVE NEVER DIES Phantom, Ramin Karimloo singing that song. TILL I HEAR YOU SING.

(The videographer needed to calm the fk down so I'd recommend listening on head phones with your eyes closed so as not to be distracted)
Here's the whole show (available free for this weekend only) as enjoyed "down under". If you watch it this weekend don't forget to donate to Covid causes via the link.

I'm determined to get to the end of it. I've never managed to so far. It's like the stunning visuals suck the life out of it. To my mind it needs a stripped back, down and dirty production, swathed in shadows and darkness steeped in the feted atmosphere of dark water lapping deep beneath a rusted Coney island pier. I once applied to direct such a production but never got beyond the gatekeepers who shield our most successful composer from such as me.
There is to be a new production, however, lock-down allowing, scheduled to open at Curve, Leicester on Saturday 26 September 2020 where it will play until Saturday 10 October 2020. The show will then play Manchester Opera House from Wednesday 14 to Saturday 24 October 2020.
I wonder if they'll fix it, allowing the piece to shed its scurrilous nickname "Paint Never Dries".
The big problem will be overcoming the show's blindingly obvious fault – there's no internal tension surrounding the Phantom. In the original we're kept on tenterhooks awaiting his appearance.
In the sequel lights go down and bang! there he is, and any interest we have as to how and why he's rematerialized and in what form is immediately dealt with leaving two hours left to find out if Christine's still in to him.
Finally here's that song I promised you in which Richard Rodgers with lyricist Lorenz Hart show how key changes can lift a song into orbit, originally from the show UP ON YOUR TOES.