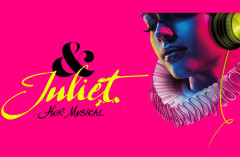 Update for & Juliet at the Shaftesbury Theatre
This gorgeous award-winner of a musical is back at last, and the excitement is already mounting. & Juliet re-opens on Friday 24th September 2021 at the Shaftesbury Theatre, and we have some brand new and exciting cast members for you. Are you ready for the joyous return of a musical that won three Oliviers, broke records with 6 awards from Whatsonstage during 2020, and also won coveted Black Theatre Awards and The Mousetrap Theatre Awards?
Who's involved in & Juliet?
Billed as 'fabulously fresh and riotously funny', & JULIET is packed with fantastic anthems by the legendary pop song writer Max Martin. You're going to adore 'Baby One More Time', 'Since U Been Gone', 'Roar' and more, and the new cast is all set to create oodles of extra magic for audiences. If you've been waiting for the show to get back on the road, here's who you'll see on stage:
Miriam-Teak Lee – Olivier Award winner for Best Actress in 2020 for Juliet – returns as Juliet
Cassidy Janson, who also won an Olivier Award for Best Supporting Actress for the role, returns as Anne Hathaway
Oliver Tompsett plays William Shakespeare
Olivier winner David Bedella plays Lance
Jordan Luke Gage is Romeo
Melanie La Barrie plays Nurse
Tim Mahendran is Francois
Alex Thomas-Smith joins the principal cast as May
The ensemble includes:
Roshani Abbey
Jocasta Almgill
Josh Baker
Ivan De Freitas
Rhian Duncan
Kieran Lai
Nathan Lorainey-Dineen
Jaye Marshall
Grace Mouat
Antoine Murray-Straughan
Billy Nevers
Kerri Norville
Christopher Parkinson
Kirstie Skivington
Alex Tranter
Sophie Usher
Rhys Wilkinson
Buy & Juliet Tickets
Book your & Juliet tickets online with us and choose the best seats with our Shaftesbury Theatre seating plan. We'll send handy E-tickets to your email address for you to present on the door. Simple!
About the Shaftesbury Theatre
The Shaftesbury Theatre is on Shaftesbury Avenue itself, in the London Borough of Camden. It first opened in 1911, originally named the New Prince's Theatre, and was the final theatre built during a frenzy of West End theatre-building on Shaftesbury Avenue. Past shows at the Shaftesbury Theatre include Rock of Ages, From Here To Eternity, Motown, and The Illusionists.