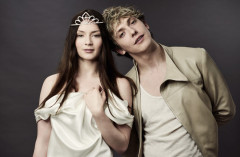 The full casting has been announced for BAT OUT OF HELL heading to the London Coliseum next June and I'm very excited about the line up.
The casting is daring and imaginative and it's going to introduce a lot of people to some hot new talent.
I suppose with a title like BAT OUT OF HELL and the fact that's it's based on the enduringly popular albums of the same name, performed by Meatloaf, the producers have been able to regard the show itself as the star. This means they've enjoyed the freedom to cast extremely talented people in the leads rather than TV celebrities whose fame rather than ability might help sell tickets.
Audaciously they've cast a complete newcomer in the lead role. Andrew Polec will play Strat. There's very little info about him out there except that he's a young American actor who's been part of the workshops during which the show has been developed in the US. You can find a very persuasive video on line of him singing the title song, shirtless. Just google his name.
In contrast I know lots about Christina Bennington who'll play opposite him as Raven. I directed her as the lead in FINNIAN'S RAINBOW both on the fringe and when it transferred to central London. It's very difficult to make a name for yourself in the competitive world of musical theatre acting as there are so many beautiful and extraordinarily talented young people graduating all the time. Despite this Christina really stands out. She is beautiful but in a very gentle, approachable way, she has a wonderful, effortlessly soaring voice, a great work ethic from her time on the Belfast musical theatre scene and she has the acting skills to match. She's recently been part of the SHOW BOAT company at the New London Theatre and played Joanna in SWEENEY TODD. I'm so thrilled a wider audience is going to see her in a lead role again and hopefully it'll mean she takes her place amongst the West End's rostra of leading ladies.
In smaller roles I'm delighted to see they've cast Tim Oxbrow who I've also directed and frustratingly haven't been able to find another role for him since because his energy and talent light up the stage and rehearsal roles.
Last summer I was blown away by Aran McRae's audition for my musical of CRIME AND PUNISHMENT. He became a valued member of our cast bringing an incredible voice, positive attitude and intelligent sensitive acting to everything asked of him. How wonderful to read that he'll also be part of the BAT OUT OF HELL cast.
Also appearing will be Danielle Steers, Dom Hartley-Harri, Giovanni Spano, Patrick Sullivan, Jemma Alexander, Emily Benjamin, Stuart Boother, Georgia Carling, Natalie Chua, Jonathan Cordin, Amy Di Bartolomeo, Jordan Lee Davies, Olly Dobson, Hannah Ducharme, Phoebe Hart, Rosalind James, Michael Naylor, Eve Norris, Andrew Patrick-Walker, Benjamin Purkiss, Anthony Selwyn, Courtney Stapleton and Ruben Van keer.
Jim Steinman's musical is described as "a romantic adventure about rebellious youths" and the score will include popular tracks Jim Steinman composed for Meat Loaf's BAT OUT OF HELL albums including "I Would Do Anything For Love (But I Won't Do That)", "Two Out Of Three Ain't Bad", and the title track.
The production premieres on 17 February at Manchester Opera House before it opens in the West End on 5 June.