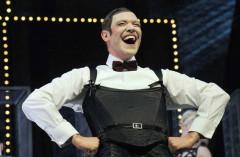 With the musical of Cabaret preparing to go back on tour why not satisfy your inner Sally Bowles and check out what's described as "Berlin's best burlesque act" when it stops off for one night at the rather glamorous cabaret room in the Hippodrome Casino just off Leicester Square.
Cabaret the musical is of course a classic show with a fantastic score by Kander and Ebb that juxtaposes cheeky nightclub numbers inspired by Berlin in the 1930s, with more plaintive songs about life during the rise of the Nazis. The current touring production which stops off at the New Wimbledon Theatre, 21st - 30th September, is a revival of the last highly acclaimed West End version, directed by Rufus Norris before he became the boss of the National Theatre.
The witty, sexy choreography is by Javier De Frutos and it stars pop star Will Young, returning to the stage and the role after grappling with anxiety issues. He's great as the sleazy M.C of the outrageous Kit Kat Club in Berlin where much of the action takes place. The role of Sally Bowles, iconically played by Liza Minnelli in the oscar winning film, will be performed by former pop star Louise Redknapp. That should be good for the box office but she's no acting experience and it's a tough part. Let's hope she's up to the job.
But what of real Berlin cabaret. Is it as raunchy as we're led to believe?
Well, according to the press rehearse for Gl'amoresque "The ladies of Die Gl'Amouresque will treat you to their world-class talents including classical ballet, fire-eating, song, comedy and, of course, striptease, all presented in the tantalising, irresistible style of classic Berlin burlesque... the ladies of Die Gl'Amouresque pay homage to the rich and sensuous world of cabaret, and the decadent heritage of Berlin's underground culture, with their own show devised, produced and hosted by the ladies themselves."
You can catch the ladies of Die Gl'Amouresque for one night only at the Hippodrome theatre on Thursday 14th September at 9pm. They'll also be making a guest appearance at London's Heaven nightclub on Monday 18th September.