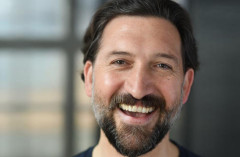 A newly discovered text from the beleaguered London of the past is spookily relevant to today's West End.
The enterprising actor Callum Coates has shared a quote from 1641 on Facebook that feels extraordinarily pertinent to the on-going closure of our own theatres.
He tells me the source is "a closely guarded secret" because, excitingly, it may be the subject of a forthcoming film – I'll tell you more when I hear.
In the meantime I can find no other references on-line so I'm unable to verify it, but Callum is a sound chap and the text is so enticing that, as he has shared it on social media, I want to share it with you, even if I can't authenticate it.
He tells me that it occurs in a little known discourse between two actors reacting to the closure of their playhouse and the loss of their jobs.
As now theatres had been shuttered in order to stop the spread of sickness. However their equivalent to Covid-19 was even more virulent than ours! Here's an actor's perspective on opening things up following an outbreak of plague, previously nick-named the Black Death!
Isn't it amazing how an actor from over three hundred years ago might make the same sort of points today to justify their role in society?
"We (Players) are very necessary and commodious to all people: First for Strangers, who can desire no better recreation, then to come and see a Play: then for the Citizens, to feast their wits: then for the vGallants, who otherwise perhaps spend their money in drunkenness and lasciviousness, for find a great delight and delectation to see a Play: then for the learned, it does increase and add wit: then for Gentlewomen, it teachers them how to deceive idleness: then for the ignorant, it does augment their knowledge. Pish, a thousand more arguments I could add, but that would weary your patience too much: Well! In a word we are so needful for the Common Good, that in some respect it were almost a sin to put us down..."