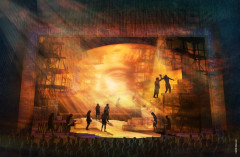 Producers of block buster musical THE PRINCE OF EGYPT have announced their intention to resume performances at the Dominion on November 2nd 2020, and run until at least September 2021. And you can book now!
During the shut down they asked amateur fans to record themselves singing the show's hit song, When You Believe.
The results certainly demonstrates what they're calling "the musical's diverse and passionate fan base" even if it also demonstrates they're not always great singers!
This is a killer tune however that always stirs the heart especially when it swells and changes key, and this ragged rendition is no exception. Perhaps it's even more moving then usual when the screen fills with the faces of hundreds of passionate fans and you consider the love that's gone into this performance.
The show itself is grand and eye popping even if the attempts to incorporate street wise attitudes jar and, to my mind, a musical about God founding a Jewish homeland that doesn't mention the deity or the race for fear of alienating anyone is absurd.
Never the less the story follows the legends within the Book of Exodus which the show's publicity material describes as concerning Moses as he "leads thousands of Israelite slaves out of Egypt and across the Red Sea to freedom."
The P of E marketing department remind us that "Grammy and Oscar winner Stephen Schwartz (WICKED) wrote 10 new songs for the stage musical, which features a book by the film's screenwriter, Philip LaZebnik. Schwartz wrote the score to the 1998 animated film, which included Through Heaven's Eyes and the Oscar-winning When You Believe, both of which are in the theatrical adaptation."
THE PRINCE OF EGYPT is based on the DreamWorks Animation film of the same name.
Here's the fans singing WHEN YOU BELIEVE: