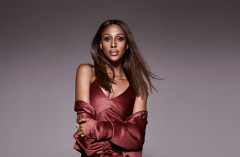 New stars have just been announced for the West End musical Chicago.
The producers remind us "The show currently stars new wave pop star (Spandau Ballet) and Eastenders regular Martin Kemp as the razzle dazzling lawyer Billy Flynn. He will be in the London production until 1 September 2018.
Alexandra Burke will join the cast playing the role of Roxie Hart from Monday 13 August through to Saturday 14 October 2018. They join Mazz Murray as Mama Morton, Josefina Gabrielle as Velma Kelly".
Chicago is also one of the longest running shows on Broadway, so what's the secret of its success?
It was only a moderate hit when it premiered but a later revival, simply staged like a concert, with the cast in slinky, sexy clothes and the band having fun in full view of the audience was such a smash hit that it returned to Broadway in that paired down version. With no sets and only a few skimpy costumes to pay for producers have been able to constantly afford and feature celebrities which keeps public interest high. There are various versions of the show that can be performed to incorporate a celebrities talents or hide their limitations.
The singing and dancing is often formidable - if not always from the celebrities! But with little else for the audience to look at the Chicago stage has traditionally been populated with very sexy male and female dancers who know how to really make the routines sizzle.
It's the story of two murderesses, and their crimes of passions so it's about being naughty, in fact, attractive glamorous people bring naughty. And who doesn't enjoy that?
The music is really tuneful and catchy but best of all it has a down and dirty jazz feel throughout. It was influenced by music played in strip joints and speakeasies in the 1920s so it all has a feel of illicit sex and booze.
Writing this reminds me that I haven't seen it for a few years and how much I've always loved it. I think a return visit is called for.
See you there!