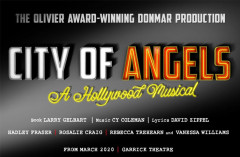 There are certain shows that you know will sell out fast either because of the title or the creative team and stars. In a series of 6 articles we report on the likely box-office smashes of the forth coming year so you can book in advance and not miss out. Use our search engine at the top of the page to find the perfect performance to suit you and get booking!
Show 2: CITY OF ANGELS
Some years after the Donmar Warehouse launched it's sizzling Olivier Award-winning production of City of Angels at its tiny Covent Garden Home it's finally going to be revived in the West End!
The costumes and set are all inspired by a Film Noir Hollywood look from the 1940s giving it an added glamour and as appropriate to a story about a struggling screen writer from the period. His plot involves a classic private eye figure in the tradition of the great Humphrey Bogart in his memorable black and white movies. As you'd expect our hero has a knotty case to crack central to which is a glamorous and dangerous woman of the type that used to be called a Femme Fatale.
Not a lot of psychological depth of course, given the source material and narrative traditions it pays homage to but the screen writer's dilemmas are real and the threat of heart break is never far away for characters real and fictitious.
Most importantly it has an extremely tuneful score inspired by swing music co-written by SWEET CHARITY composer Cy Coleman and a witty script that's dripping with wise cracks and irony. The more you know about the movie conventions it parodies the more you'll laugh but there's plenty to enjoy even if you've never seen a classic Hollywood private eye movie.
The West End production also boasts a bunch of our top musical theatre stars including Hadley Fraser, Theo James, Rosalie Craig, Rebecca Trehearn, Jonathan Slinger with Nicola Roberts and Vanessa Williams.
You can book in advance for this one safe in the knowledge that you'll have a fun and sophisticated evening of great Musical Comedy.
Previously: 6 of the Best 2020 Shows You Should Book in Advance: 1. Toby Jones in UNCLE VANYA