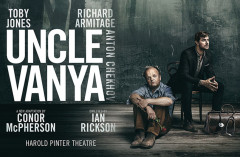 There are certain shows that you know will sell out fast either because of the title or the creative team and stars. In a series of 6 articles we report on the likely box-office smashes of the forth coming year so you can book in advance and not miss out. Use our search engine at the top of the page to find the perfect performance to suit you and get booking!
Show 1: Toby Jones in UNCLE VANYA
In my opinion Toby Jones is one of our greatest living actors. If you don't know the name you'll almost certainly recognise his crumpled expressive face from many TV hits, niche and mainstream, including DETECTORISTS, DON'T FORGET THE DRIVER, CAPITOL and WITNESS FOR THE PROSECUTION.
And you may have seen him recently in the revival of Harold Pinter's THE BIRTHDAY PARTY in which he played a put-upon concert pianist and managed to be both pathetic and sinister at the same time.
He is both one of the funniest people I've ever spent time with (during a hectic conference on stage direction at Leeds Playhouse) and one of the few actors I'll always watch confident that he'll deliver a fantastic performance. Short and far from conventionally good looking he's also managed to attract the attention of Hollywood casting directors and has a number of big budget movies on his CV too.
I like this oft quoted remark from the writer Peter Bowker who worked with him on the TV drama CAPITAL, "He always wants to know a character's needs, and what's beneath those needs. Then he takes all that material and somehow embeds it into the character and physically inhabits the character, so that you never think he's playing the character. It's fascinating to watch him close up. He carries the emotional complexities in every tiny gesture that his character makes so that you immediately can see what his character is like. A character like Roger is full of contradictions, a city banker with an air of entitlement but also a little insecurity picking away at him. Toby can portray that in his walk alone. That's what's great about him, he can portray cold he can portray warm and he can portray both of those things at once."
All of this is a preamble to saying I can't wait to see him as the title character in UNCLE VANYA at the Comedy Theatre in 2020. It's one of those melancholy plays that also manages to be very funny as you recognise traits of yourself and the people around you in the on stage action.
It's by one of the undisputed genius' of world theatre, Anton Chechov, and was written in Russia at the turn of the last century. You'd think his world would seem far removed fro our own but you'll be gripped by its slowly evolving story about an estate manager undergoing a mid-life crisis and his impact on those around him.
Especially with Toby Jones in the lead role.
Next: 6 of the Best 2020 Shows You Should Book in Advance: 2. CITY OF ANGELS