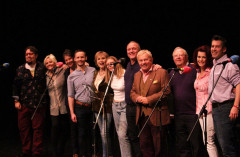 Hit TV shows don't traditionally make good theatre. They're tightly crafted to work within a thirty minute frame work and can seem over stretched when padded out to two plus hours.
But audiences love the familiar and the chance to see their favourite characters live is irresistible whether or not they're played by the same actors as on TV, just as long as they look and sound like the originals and have the same catch phrases.
A good example is the current hit production of ONLY FOOLS AND HORSES currently playing at the Haymarket Theatre. The critics may have been snooty but you can feel the waves of love from the audience towards the cast who are given exactly the kind of nostalgic treat they were hoping for. Seeing their TV favourites from the past is like meeting up with beloved old friends.
The producers of Ben Elton's stage adaptation of his critically acclaimed BBC TV sitcom, UPSTART CROW must be hoping for the same response when it opens at the Gielgud Theatre on 7 February.
It stands every chance of success as it's a new script written especially for the stage by Elton, and presumably structured accordingly. It'll also star the same actor as the TV show. In the words of the press release "David Mitchell will once more don the bald wig and bardish coddling pouch in his iconic characterisation of Will Shakespeare".
Mitchell and co-star Gemma Whelan (GAME OF THRONES and GENTLEMAN JACK) will be directed by Olivier award-winner Sean Foley (THE LADYKILLERS, JEEVES AND WOOSTER and THE MISER) who got a bit of a critical mauling recently for his current production THE MAN IN THE WHITE SUIT but can usually be relied upon for some excellent modern slap-stick.
David Mitchell says: "Theatre goers can look forward to a comedy steeped in authentic Shakespearean ambience in every way apart from the smell".
On Saturday I felt very privileged to watch a slightly different version of a TV situation comedy performed live. An enterprising company called Spiteful Puppet Entertainment Limited assembled a terrific line up of comic performers to recreate the delights of vintage sitcom UP POMPEII.
It was a treat. Alas you can't go and see it because it was only on for one day, but you can hear it, for this was a live recording of an audio performance that will be available to download after November 29th from https://spitefulpuppet.com/product/up-pompeii-a-50th-anniversary-audio-revival-2-disc-set/
And who knows, if it sells well, maybe they'll do a stage version next.
50 years ago UP POMPEII was a TV smash hit for comedian Frankie Howard attracting a loyal following of 12 million viewers back when there was only 3 TV channels to choose from. If you've never heard of Frankie Howard the best thing you can do is check him out on youtube as his charms are pretty indescribable. But charming he was and absolutely hilarious with his "naughty" but world weary persona that always made you feel you were his best friend and confidante as he delighted in the world whilst despairing of it.
Unbelievably the format for UP POMPEII was lifted straight out of the Roman comedies of Plautus, in which a cunning slave always tries to get the better of his masters whilst serving them just enough that he doesn't lose his job. In doing so Howard shared with the TV audience a non-stop barrage of double entendres and risqué gags, delivered straight to camera, which the other characters couldn't hear.
Frankie Howard died quite some time ago but on Saturday we had the next best thing in the shape of the brilliant comedy performer David Benson whose impersonation is so spot on and effortless that if you close your eyes you'd swear you were listening to the original.
Joining him were a cracking cast including Frazer Hines ('Emmerdale'/'Dr Who') as his befuddled master - Ludicrus Sextus, the stunningly beautiful Cleo Rocos ('The Kenny Everett Show'/'Celebrity Big Brother') as Ludicrus' mistress - Suspenda, and Tim Brooke-Taylor OBE (best known as one third of the TV comedy trio The Goodies and a panelist of 'I'm Sorry I Haven't a Clue' on BBC R4 for 40 years) as a roguish sea captain.
But is it still funny? I must confess I only have to hear a few sentences from Howard/Benson and it gets me smiling from ear to ear but to fully immerse yourself in the humour you do have to forgo our contemporary attitudes to the way women are portrayed on stage ans screen.
As in the original Roman comedies nearly all the female characters are drawn with an insatiable sexual appetite desperate to bed the male characters who struggle to satisfy them, yet the men get all the funny lines so that the women are almost props to set up the gags. Such two dimensional female roles would be unacceptable today. Perhaps because of this the audience on Saturday afternoon was almost entirely older men.
I saw the very first session of the day and the performers hadn't quite warmed into things so that most of the big laughs came from them fluffing their lines but there was every indication that Benson was going to let rip and be at his hilarious best as the days recording went on. The performers also struggled to keep the comedy sparkling whilst a series of cumbersome and over long sound effects kept dragging the pace down.
But "worry not" as Frankie might have said. The eventual recording will be assembled from the very best bits of the day edited to maximum comic effect.
I have every expectation that the finished audio will be hilarious and a laugh-out-loud treat for fans old and new.