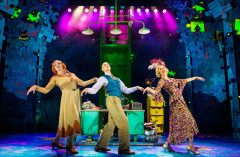 These days you need a star in a West End show to keep the box office busy. It wasn't always thus. Back in the 1980s producer Cameron Macintosh made the show itself the the main attraction with mega-hits like Les Miserables and it didn't particularly matter who was in it, the public were just excited to see Les Mis regardless of who happened to be playing Jean Vajean.
I'm not sure this would work these days. It's certainly doubtful if the rather thin touring production of Annie, currently at the Piccadilly Theatre would be a box office hit without beloved TV star Miranda Hart in the lead role of the show's villainess Miss Hannigan. Similarly Hello Dolly is enjoying record breaking ticket sales on Broadway because it stars Bette Middler.
But what do you do when the star wants to move on. Get another star of course but I think they'll struggle to find one with quite the appeal of Middler.
Meanwhile in London the Annie producers are replacing Hart with Craig Revel Horwood who'll play the role in drag. He did this for a while during the national tour and I'm told he does a great job of it. I'll certainly be intrigued to find out.
The press release reminds us that he is best known on television as a judge on the BBC's Strictly Come Dancing. I've worked with Craig and can tell you that his witty urbane TV persona is pretty close to how he is in real life.
The press release reminds us that "Previously in the West End he has performed the role of Munkustrap in Cats, was Dance Captain in Miss Saigon and played the role of Harry in Crazy for You"
But if you're a fan be careful when you book. We're advised that "during his 10-week run, because of his Strictly Come Dancing commitments, Craig Revel Horwood will not play the role of Miss Hannigan on Saturdays"
The man himself has a message for you - "I am so pleased to be returning to the West End, especially to a role I had such a brilliant time performing on tour. Miss Hannigan is evil, sassy and fab-u-lous. It will be a real challenge for me not to take her man-hungry, wicked ways to the Strictly judging panel each Saturday night - though I am sure my fellow judges will keep me in check! I can't wait to get started."
Joining him will be Alex Bourne as Daddy Warbucks, Holly Dale Spencer as Grace Farrell, Jonny Fines as Rooster and Djalenga Scott as Lily.
The title role of Annie is shared by Madeleine Haynes, 13-years old from Hadley Wood, Barnet, Lola Moxom, 12-years old from Rochester, Kent and Ruby Stokes, 12-years old from Hampshire.
Three teams of young performers play the girls in Miss Hannigan's orphanage.
Amber, a 4 year-old Labradoodle, plays Annie's dog Sandy.
Completing the company are adults Russell Wilcox, Bobby Delaney, Keisha Atwell, Sophie Ayers, Nic Gibney, Patrick Harper, Ben Harrold,George Ioannides, Megan Louch, Benjamin Mundy, Ben Oliver, Heather Scott-Martin, Anne Smith, Kate Somerset How and Katie Warsop.
Miranda Hart will play the role of Miss Hannigan until 17 September 2017.