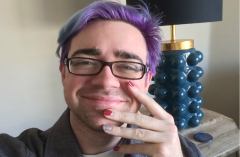 This week, West End Editor Josephine Balfour-Oatts explores the London art scene to the beat of Daniel Perks' drum, with a tipple or two thrown in for good measure.
Daniel Perks is currently the Contributing Editor for WhatsOnStage. A champion of emerging talent, he also helps spearhead The Network of Independent Critics, an annual scheme that works to support up-and-coming arts journalists at the Edinburgh Fringe Festival.
Do you have a favourite theatre in the West End? If so, why?
I'm a big fan of the smaller venues but would have to say my favourite is Trafalgar Studios – two beautiful spots to see some ground-breaking work, and you just can't beat those wonderfully comfy seats in their main space.
Which are your preferred spots for a pre-show meal?
Difficult, I often plump for drinking rather than eating before a show – something about a glass or two of wine just gets me in the mood for theatre! Great eating spots for me would include Patara (gorgeous Thai, if a little pricey) for a special treat, or somewhere you can get smaller bites before a show so you aren't feeling too bloated. Pix does fantastic pintxos, or The Real Greek has a lovely selection of hot and cold sharing dishes – who can say no to hummus?!
Where is your post-show drinks haunt?
I'm all about those martinis, so get me straight to Christopher's for a post-show lychee rose infusion and some flattering, low lighting to chat about those incredible performances. Or, if I'm feeling a little more energetic and need a good dance to end off the night, I'll attack Freedom Bar and their pornstar martinis to sashay away until the early hours.
Which of Theatreland's upcoming/ current productions are you most looking forward to?
I, like many other Disney princesses, have memorised all the words to "Let It Go", so I'd be a fool not to be gagging for Frozen in autumn this year. And who can resist the might of Imelda Staunton in Hello, Dolly! after hearing such spectacular things about Bette Midler and Bernadette Peters on Broadway. But if we're looking for a production crammed full of stars, then City of Angels is where it's at – Vanessa Williams, Hadley Fraser, Rosalie Craig, Rebecca Trehearn, Theo James, Nicola Roberts, Emily-Mae… Yes, yes and again yes!
Top show to see right now?
&Juliet, hands down. A modern take on the classic love story that gives Juliet the agency she deserves, coupled with a spectacular set of ensemble performances (look out world, Miriam-Teak Lee and Cassidy Janson are in town!) and a host of classic tunes from a millennial's youth. It ticks all of my sparkly, queer boxes.
Expenses aside, what would be your ideal day out in London?
Well, first off, it would be a Wednesday or Thursday – quieter streets and the opportunity to catch both a matinee and an evening theatre show! A little champagne-fuelled luncheon in Chiltern Firehouse wouldn't go amiss, with cocktails in the Shard to cap off a day of pure, delightful decadence.
In your opinion, what is London's best-kept secret?
Unfortunately, I think there are so many beautiful fringe theatres in this fantastic city that don't get the attention they deserve – I want to shout about these places and put them firmly into the spotlight! The King's Head Theatre, the Royal Court, Southwark Playhouse, the Vaults and the New Diorama Theatre to name but a few – watch out for their innovative programming.
On your days off, where are you most likely to be found?
On the couch with a blanket and Netflix most likely! I love those days when you can unwind and truly relax. But if I'm out and about, you'll find me in Greenwich Park on a beautiful spring day, or down in Lewisham hunting for bargains at Aladdin's Cave or around their markets. Or in one of the gorgeous independent businesses underneath Deptford Arches – The Box having my hair coloured or London Mode Beauty for my gorgeous nails and a good old gossip about life.
What is your fondest memory of the London theatre scene?
I went to the Off West End Awards in 2019 at Battersea Arts Centre. I was lucky enough to be a judge and help set up, so I got to wander into the Great Hall before the guests had arrived. I stood there, thinking about how wonderful it was that I was able to champion this fringe scene and celebrate shows like Misty and I'm A Phoenix, Bitch, celebrate creatives like Zoe Spurr (the best lighting designer in the business) and Fabian Aloise (a choreographer that makes my heart sing whenever I witness his work on stage). And the Grand Hall had recently reopened after an awful fire in the last decade – Battersea Arts Centre was awash with warm hues and intentionally distressed interior architecture. I feel so privileged to be a small part of this magnificent and generous industry, one I will hopefully work in for the rest of my life.
Where in London are you most happy?
My favourite spot in London is at sunset in the summer standing on Waterloo Bridge. It can be super crowded, but if you get a quieter evening, you can watch the sun go down over Parliament, St Paul's, the National Theatre and Southbank Centre. The light shimmers off the water and I can just get lost staring at the prism of colours for hours. It's my favourite view of London because it's totally in the middle of all the hustle and bustle that makes this city so spectacular, and yet I feel totally calm and at peace. Bliss.
What's next on your agenda?
Well, I'm settling into my new job as Contributing Editor for WhatsOnStage – 4 months and counting! We have some exciting ideas for 2020, along with the WhatsOnStage Awards on the 1st of March. The Off West End Awards are coming up soon as well, so it'll be great to celebrate another year of wonderful talent in the fringe theatres around London. And of course, the early months of a year wouldn't be complete without regular visits to VAULT Festival underneath Waterloo to see some exciting new work and catch up with Network of Independent Critics colleagues – if you want to cover Edinburgh Fringe as a theatre critic this summer at affordable prices and with a group of wonderfully passionate, like-minded people, stay tuned to our social media for more information soon!