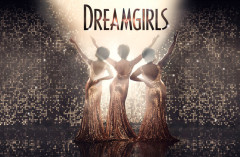 Hurry! If you haven't seen the glorious DREAMGIRLS in the West End you only have until January 12th when it closes in the West End ahead of a national tour.
It's one of the best loved musicals of the past 50 years, a reputation cemented by a terrific movie and the rave reviews of both critics and audiences who have seen it at the Savoy Theatre.
Steeped in a fabulous mo-town influenced score it's a Cinderella story of how an unlikely singing star breaks through to find appreciation and glory both in her private life and her career - and the friendships that need to be sacrificed on the journey. The dramatic song - And I am Telling You - is one of the most celebrated diva moments in musicals and regularly has audiences leaping to their feet in appreciation.
It's the kind of show people return to again and again so don't delay booking your tickets as the news of the show closing is bound to spark a rush at the box office for people who want to see it one final time.
The promoters remind us -
"Produced by Sonia Friedman, the musical is based on the success stories of acts like The Supremes, and follows Effie, Lorell and Deena – The Dreams – on their path to mainstream success in the 1960s.
With a book and lyrics by Tom Eyen and music by Henry Krieger, the original West End production of the show starred Glee actress Amber Riley, who went on to win the Olivier Award for Best Actress in a Musical. The cast also included Adam J Bernard (who won the Olivier for Best Supporting Actor in a Musical), Liisi Lafontine, Ibinabo Jack, Joe Aaron Reid and Tyrone Huntley".