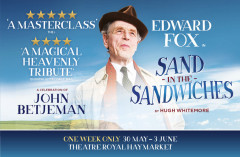 This one sounds like a classy if old fashioned evening.
Whilst Damian Lewis takes a week off from performing at the Haymarket Theatre due to prior commitments the 80 year old film, TV and stage star Edward Fox will return to the West End in a one man play about the former Poet Laureate John Betjeman.
It's called SAND IN THE SANDWICHES and that combination of celebration and irritant in a single phrase rather neatly sums up the poets work.
He died in 1984 but until then his rather waspish poems on inherently British and rather cozy subjects were hugely popular with middle class readers who craved a little poetry but didn't want to be too taxed or disturbed. He was the perfect poet to write verse marking royal births, marriages and deaths, always respectful and respectable in his work even if some of it was laced with a barbed wit. I used to enjoy it as a teenager, my family regularly rented a holiday cottage near where he lived, but even then he was regarded as a bit twee and old-fashioned.
I find Edward Fox an interesting phenomena as a actor. He is of that generation when actors sounded like actors. He has a strange, raspy voice that swoops around the lines, sometimes booming sometimes sounding positively strangulated but unlike anything you might hear in real life. I'm not a fan of his kind of theatrical artificiality but it's undoubtedly served him well for over 6 decades and the press release reminds us that his distinguished career has encompassed British films including the Oscar winning Ghandi, The Day of the Jackal, A Bridge Too Far, Oh! What a Lovely War, The Dresser, The Go-Between, A Doll's House, Pride and Prejudice, Robin Hood, Nicholas Nickleby, Force 10 from Navarone and James Bond's Never Say Never Again. On stage his credits include: The Audience, Four Quartets, Hamlet, An Evening with Anthony Trollope, Letter of Resignation and many more. His film credits have won him three BAFTA Awards and in 2003 he was made an Officer of the Order of the British Empire for his contribution to stage and cinema.
Anticipating his return to the poems of Betjeman Fox has said "It is lovely to be returning to one of the great theatres of the world and to the role of John Betjeman, even now at the age of 80. All of us involved are working to magnify the voice of one of the greatest minds in England. Betjeman once said that 'poetry is life', and I agree. You can't live without it."
Despite my reservations about his vocal mannerisms there's no doubt Fox can command a stage. I think younger actors will discover there's a lot to be learnt from him.
The production has already toured very successfully in 2016, when I imagine it was very popular with elderly ladies at matinee performances, and a gentle evening of an elderly thespian reciting Betjeman's greatest hits should be a lovely respite from the hustle and bustle of the West End.
And maybe Betjeman's brand of mischievously respectful subversion may strike a chord in our era of aggressive satire and instant opinions.
SAND IN THE SANDWICHES will performed at the Theatre Royal Haymarket, Haymarket, London, SW1Y 4HT
Tuesday 30 May - Saturday 3 June
Eves: 7.30pm, Mats: Thurs & Sat 2.30pm