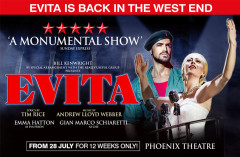 Producer Bill Kenwright's rather elegant production of the classic Tim Rice, Andrew Lloyd Webber musical Evita is headed black to the West End and it's going to be much better than the last time.
How can I be so sure? Well there are two very good reasons. The first is that the most recent revival was at the cavernous Dominion Theatre, a huge place the saps most shows of any personality - although not the current show An American in Paris, which is an absolute delight from beginning to end and which you should definitely try and catch.
The difference between this and Evita was that the former was originally conceived for a big Broadway venue so the designs are all assembled to make an asset of a huge stage. This production of Evita was organised to play in regional theatres of varying sizes as it toured around the UK and Ireland but few as vast as the Dominion. As a result it seemed over stretched for it's most recent revival in the West End with not quite enough scenery or people on stage. This won't be a problem at the smaller Phoenix and I think it's going to look gorgeous on this smaller scale.
It'll feel like a homecoming for the producer director, too as this is where his production of the long, long running musical Blood Brothers played for many years. So expect him to lavish just that little bit more care and attention on getting Evita perfect for you in this theatre.
The other element that I can guarantee will be an improvement is the portrayal of the musical's leading male role - Che.
Because the Dominion had so many seats to sell Kenwright was obliged to cast a celebrity who would draw a crowd rather then necessarily be any good. He hired Marti Pellow an eighties pop star from the group Wet, Wet, Wet.
What ever charisma Pellow had when fronting a band completely eluded him when he was expected to play a character. He looked uncomfortable and was underpowered through out. This this time both Che and Evita herself will be played by unknown actors presumably selected for their talent.
The press release tells us that the iconic role of Eva Perón will be played by "one of musical theatre's most exciting young leading ladies Emma Hatton, who has performed the lead role of Elphaba in the West End production of Wicked, the principle roles of Scaramouche and Meatloaf in We Will Rock You at the Dominion Theatre, and Donna in the West End production of Dreamboats and Petticoats"
As Che you can look forward to seeing Gian Marco Schiaretti who apparently "played the title role of Tarzan in Disney's Musical Tarzan, in Stuttgart and Mercutio in Romeo and Juliet across Italy"
The rest of the cast is Oscar Balmaseda, Sarah O'Connor, George Arvidson, Lewis Barnshaw, Jessica Ellen, Callum Fitzgerald, Kellie Gnauck, Dominic Adam Griffin, Joe McCourt, Jude Neill, Jordan Oliver, Chrissie Perkins, Oliver Slade, Matias Stegmann and Yuval Zoref.
If you're new to the show the publicity team are describing it as follows:
"Telling the story of Eva Perón, wife of former Argentine dictator Juan Perón, Evita follows Eva's journey which ultimately lead her to be heralded as the 'spiritual leader of the nation' by the Argentine people. With more than 20 major awards to its credit, and an Oscar winning film version starring Madonna and Antonio Banderas, Tim Rice and Andrew Lloyd Webber's Evita is iconic. Featuring some of the best loved songs in musical theatre, including Don't Cry for Me Argentina, On This Night of a Thousand Stars, You Must Love Me, and Another Suitcase in Another Hall"