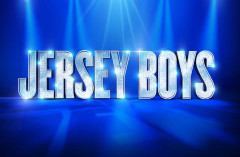 Sad news that after nine years the West End must say goodbye to the popular musical, JERSEY BOYS.
I was first aware of it in NYC and when it opened and it was impossible to get a ticket. In New York the title has a powerful resonance as everyone is aware of their near neighbour, New Jersey, the setting for much of the story. When it opened in the West End I thought the title might mystify people as when we think of Jersey we think of the pleasant isle just off our coast that's a favourite, if genteel, holiday destination!
In fact it's been a very popular hit, it's the sixth longest running musical in London and audiences have easily latched on to the fact that it's the story of how the sixties pop group Frankie Valli and the Four Seasons rose from humble beginnings in New Jersey to dominate popular music world wide.
I didn't think I was a fan when I first went to see it but it's one of those shows that has you thinking "Oh, they originated that too? I love that!" as you discover quite how many songs originally recorded by the four seasons you already cherish without realising who first sang them.
You'd have to be made of stone not to find your foot tapping to feel good classics like RAG DOLL, WALK LIKE A MAN, BIG GIRLS DON'T CRY, SHERRY and especially, for me, DECEMBER 1963 or as it's more often referred to OH, WHAT A NIGHT. When I heard it playing in a bar recently I couldn't get it out of my head for days. It's a perfectly crafted uplift, celebrating romance, nostalgia and good times.
The tale is told through narration and dramatised scenes from the group's history and the scenery is predominantly projected. It's a very simple piece of storytelling, cleverly honed so you get enough information to keep you hooked but there's not too much plot so that the songs are overshadowed, they are the real stars of the show.
Frankie Valli had an extraordinary voice, high, powerful and clear and a distinctive Italian American look, each performance is also very demanding for the actor who plays him. Over the years it's been quite a challenge for the casting director to keep refreshing the cast with new "Frankies"; not just one to take over the role but at least two to understudy it so that West End audiences are guaranteed to see a phenomenal performer in the lead role every matinee and evening.
The show has won 57 major awards worldwide, including the Olivier Award for best new musical and four 2006 Tony Awards including Best Musical. There have been equally acclaimed productions in Las Vegas, Chicago, Toronto, Melbourne, Singapore, South Africa and The Netherlands and when the show finally closes at the Piccadilly Theatre on March 26, 2017 a second tour of the UK will begin.
With the forthcoming closure of SUNNY AFTERNOON the West End will lose two of its most successful "jukebox" musicals, the name given to shows which incorporate pre-existing popular songs into a theatre piece. BEAUTIFUL, celebrating the songs of Carol King, MOTOWN, THRILLER LIVE and of course the ABBA show MAMMA MIA are still going strong but I wonder which will be the next pop group to have their back catalogue of songs celebrated by London Theatre.
In the meantime, if you haven't seen JERSEY BOYS I recommend you snap up a ticket for a great night out.