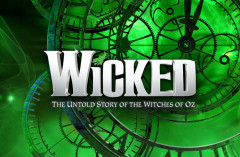 Blockbuster musical WICKED will soon celebrate ten years in the West End.
I first saw it on Broadway a year before its arrival in London and for me it was love at first sight!
I'll never forget the atmosphere as the audience waited for the show to begin in New York. Somehow I'd managed to get a house seat from the producers; these are kept off general sale and available through industry contacts. The rest of the audience had either waited a long time, booking the much coveted tickets way ahead or they'd successfully queued for hours. Anyway, everyone was so thrilled to be there that the euphoria was more like a gospel service than a show.
The production grabs you as soon as you enter the auditorium with a vast and spectacular dragon wrapping itself over and around the stage, in amongst tangled branches which seem to hold all sorts of fascinating shadowy goings on. When the music started and the huge dragon started to move the whole audience went crazy.
It's spectacular but there are plenty of spectacular designs on Broadway or on Shaftsbury Avenue. What makes WICKED so different and so loved is its story. It tells how the worst looking, least popular girl in school triumphs through hard work, self-belief and goodness to become successful and win the hottest guy around. This strikes a chord with everyone either because they too are the worst looking least popular girl in school or because there are times throughout life when we all feel like that.
Of course it's the back story to the WIZARD OF OZ putting the actions of the witches of the East and West into context. So enshrined is Oz in popular culture that the setting takes on an epic mythical quality right from the start. If you add the oppression of animals into a sub species and the idiocy of adults into the mix it also takes on the feel of something with a profound message.
Let's not forget the wonderful songs by Stephen Shwartz; they're catchy, memorable and most end on thundering high notes guaranteed to make an audience go wild. There's something about them which makes you want to return to them again and again with their messages of love, struggle, self-empowerment and sheer joy.
If you've seen it you'll know what I mean, if you haven't – where have you been for the past ten years?
Either way there's never been a better time to visit or revisit this magnificent piece of musical theatre.