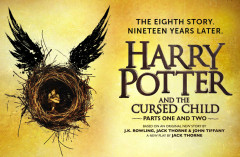 There have been many stern requests over the last week or so for audiences not to give away the secrets contained within the two part Harry Potter and the Cursed Child production, now premiering at the Palace Theatre.
On the face of it that seems absolutely fair enough, after all, everyone hates "spoilers" about TV programmes. If anyone gives away anything about an episode of GAME OF THRONES that I haven't seen I get furious. I can see no reason why we shouldn't feel the same about a theatre show and protecting the surprises it contains.
However I feel the objections raised about critics reviewing Potter previews are hypocritical.
The preview performances are traditionally used by the cast and production team to polish things based on audience reactions before the press see the finished product. I'm a director myself and value this opportunity.
But in the case of shows like HP&CC they're a major news story. It's unrealistic to think journalists will fall into line and do as the PR companies tell them when they themselves have courted so many headlines that editorial interest has extended beyond the Arts Desk to the News Desk.
Two national newspapers have already reviewed part one of the story on its first preview (apparently it's very good) Cue the same kind of huffing and puffing that followed some critics deciding to review preview performances of Benedict Cumberbatch as Hamlet last year. However, in the case of this latest breach of theatre writing etiquette, I think it's entirely understandable that editors have rushed their critics in to report on the show as early as possible.
After all the PR company marketing it to us have done everything possible to whip us all into a frenzy of anticipation by releasing pictures and news stories, like the one about audiences having to arrive an hour early or the designers seeking planning permission to make the Palace Theatre look like the Hogwarts school featured in the book - this turned out to just mean hanging up a few banners. Yesterday there was a story released about the non appearance of live Owls.
JK Rowling herself has also contributed to turning the production into a news story by issuing various comments about reactions to the casting, her faith in the team, response to the rehearsals etc, in interviews.
This kind of stuff is usually drummed up by publicists to boost ticket sales but in this case that isn't needed, the production is sold out for a year. The only purpose of the drip feed of stories is to turn the production into a major media event. And it's worked. But having deliberately got us all speculating about the production I don't think the producers have any right to object to us reporting on it as the big news story they've created.
Some newspapers have hedged their bets and filled a few column inches by reporting, disapprovingly, that rival papers have reviewed a preview. They then go on to quote tweets and comments from preview audience members. I won't quote any tweets here, you can check them out yourself but all the signs are that those who've had the foresight to book are in for a treat.
I hope the producers will allow me to review it for you, once it's ready for the press. But if they don't I'll be very happy to report on anything you'd care to tweet me @philwillmott.