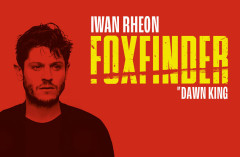 Iwan Rheon (Game of Thrones' Ramsay Bolton) is to star in the West End premiere of Dawn King's award-winning thriller, FOXFINDER.
The announcement comes hot on the heels of news that two other G.O.T. alumni are also about to hit the London Stage.
Kit Harington will star in TRUE WEST at the Vaudeville Theatre and Maisie Williams will be leading the cast of I AND YOU at Hampstead Theatre. I also spotted Eugene Simon (Lancel Lannister) being rather good in an excellent revival of FOR KING AND COUNTRY, currently playing at Southwark Playhouse.
A West End revival of FOXFINDER has been rumoured ever since 2011 when it premiered at the Finborough Theatre (where I'm founding Artistic Director). It attracted a raft of rave reviews and impressive awards, and there was talk that producer Bill Kenwright would be developing it. It's subsequently been performed in Sweden (Gothenburg English Speaking Theatre), Australia (Red Stitch, Melbourne), America (Artist's Rep, Portland) Greece (Epi Kolono, Athens) Iceland (Reykjavik City Theatre), Germany (Theatre Ingolstadt). It's unclear if Kenwright is behind this new production.
Audiences love the gentle way it asserts a gradual grip on your emotions as surprising revelations unfold, in a plot described as follows -
"England is in crisis. Fields are flooded, food is scarce and fear of the red beast grips the land. William Bloor, a foxfinder, arrives at Judith and Samuel Covey's farm to investigate a suspected fox infestation. The Covey's harvest has failed to meet their target and the government wants to know why. Trained from childhood, William is fixated on his mission to unearth the animals that must be to blame for the Covey's woes. But as the hunt progresses, William finds more questions than answers…"
This revival will be directed by Rachel O'Riordan, who won an Olivier Award for Killology at the Royal Court.
I remember it as chilling examination of how trust can be exploited that stays with you for days afterwards and Rheon's brooding presence will undoubtedly add extra dimensions, thrills and chills.
The production will play at the Ambassador's Theatre from September 6th.