Quick Facts
Largest Ticket Inventory
in the West End
Real time
seat availability
Choose
your seats
Your booking is processed directly into the box office reservation system
This show is now closed.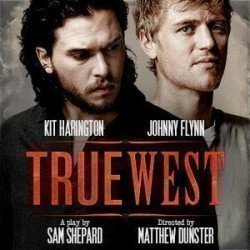 True West
Tickets
4.3/5
-

based on

31

reviews
Starring: Kit Harington, Johnny Flynn
About True West
Performance Times
Starring:
Kit Harington, Johnny Flynn
True West description
Game Of Thrones' star Kit Harington is back, and this time he's on stage at the glorious Vaudeville theatre with Johnny Flynn, playing two warring brothers in the exceptional play True West. Sam Shepard's sizzling play about rival brothers has actually never been on stage in the West End before, but now the balance is being redressed... and it's going to be awesome!
What's the plot? Harrington and Flynn play a couple of warring siblings in a play set in the brothers' mother's home, in the Californian desert. The play is by Sam Shepard and it's a critically acclaimed drama that sees one brother at war with the other, tearing the family apart and revealing the so-called American Dream for what it is – merely a dream.
One brother, Austin, is creating a movie script, the idea for which he has already sold to the producer Saul Kimmer. When Austin's dodgy brother Lee appears out of the blue, he pitches his own idea to the producer, which sets off an extraordinary series of events with unexpected consequences.
Harington and Flynn are no doubt thrilled to bits to land these roles, which are widely regarded as a couple of the most challenging roles in modern drama, and as such are seriously desirable. They've been played masterfully by some of the best talent from both sides of the Atlantic during the past three decades. And the word on the streets is the cast is more than up for the job, more than talented enough to play these supremely tricky parts with confidence, assurance and verve.
This also happens to be the first time a Sam Shepard play has been produced in Britain since the great man passed away in summer 2017, which makes the whole thing even more poignant. One of the twentieth century's best-loved US playwrights, Shepard's deeply dark and gothic plays include The Tooth of the Crime, The Curse of the Starving Class, Fool for Love, A Lie of the Mind, and the brilliant Buried Child, which won a Pulitzer Prize in 1979.
If you loved Harington's work in Game of Thrones and Dr Faustus, another theatre classic, and love Flynn's extraordinary work, you'll adore this magical production. True West plays for a limited season at the Vaudeville from late November 2018 to week two in February 2019.
Who is this show for?
True West contains adult language, themes and situations, so isn't suitable for children under the age of 12.
True West reviews
4.3 out of 5
based on

31

reviews
What to expect:
Acting
Music
Costumes
Story
Lighting
Recommended for:
Anyone (32%)
Families (32%)
Teenagers (45%)
Couples (58%)
Theatregoers (90%)
Latest customer reviews

Interesting take on Brothers relationship
Reviewed on 28 February 2019 by Karina, London, United Kingdom

A great piece of theatre
I loved this play. I read the script before hand and i was curious to see the directors vision and skill of the british leads. Accents were flat twangy american. Bravo gents. Great acting. Loved the stage design and clever - insightful program. I was very pleased with my choice
Reviewed on 19 February 2019 by Jennifer, Winnipeg, Canada

Fab, fab fun, full of surprises
Fab, fab fun, full of surprises
Reviewed on 17 February 2019 by Lyn, Bexleyheath, United Kingdom

Enjoyed, very much.
Was lucky to have ay1 and 2 stalls front row seats. Low stage so I think most of the audience could see it well. Good acting, few laughs overall enjoyed the show.
Reviewed on 16 February 2019 by Angelo, Harlow, United Kingdom

Well executed performance, good set. Good acting. Something seriously missing in the script... Weak plot and story line.
Reviewed on 09 February 2019 by Helen, London, United Kingdom

Fun escape
It was unexpectedly funny and interesting! The actors did an excellent job!
Reviewed on 31 January 2019 by Ramona, Kerzers, Switzerland

A break from the norm
Reviewed on 28 January 2019 by Mark, Rushlake Green, United Kingdom

A powerful play which was very thought provoking
Reviewed on 28 January 2019 by Lucy, Salisbury, United Kingdom

Poor story line
Reviewed on 19 January 2019 by Gill, Sawbridgeworth, United Kingdom

Reviewed on 04 January 2019 by Tracy, New York, United States

Riveting!
Fantastic version of True West—great performances, set, and story. A must see!
Reviewed on 31 December 2018 by Laura, San Francisco, United States Of America

Interesting and captivating
Reviewed on 18 December 2018 by Rotem, Tel Aviv, Israel

Imaginative
Reviewed on 16 December 2018 by Royce, New Braunfels, United States Of America

A Night of Good Theatre
I am an American who came to London to see a show I couldn't see in the U.S.. Ironically it was an American Play with British actors who had to sound like Americans. It was a difficult play to pull off but the actors made it seem easy. I really liked the use of costuming and music to help to bring the show together. The set design was also used quite well. While the show was a comedy it was very serious. I left feeling very satisfied. It felt like a full night of good quality theatre.
Reviewed on 15 December 2018 by Michelle, Pittsburgh, United States Of America

Amazing
Reviewed on 08 December 2018 by Caroline, Saive, Belgium
15

Jun
2018

Dream Team Kit Harington and Johnny Flynn to star as brothers in Sam Shepard's TRUE WEST
by Phil Willmott | Friday, June 15 2018, 12:19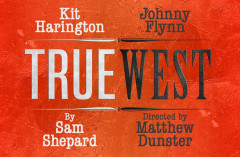 It's just been announced that Game Of Thrones' star KIT HARINGTON is returning to the West End in Sam Shepard's sizzling play about rival brothers, TRUE WEST.
I'm suprised to discover it's never been presented in the West End before as it's an undisputed masterpiece and contains two exceptional roles for leading actors.
Dream Team Kit Harington and Johnny Flynn to star as brothers in Sam Shepard's TRUE WEST