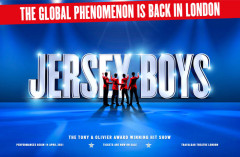 The story of Frankie Valli and The Four Seasons will make a welcome return to the West End next spring when the Tony, Grammy and Olivier Award-winning musical JERSEY BOYS is revived at the new Trafalgar Theatre from Wednesday 14 April 2021.
The juke box show is packed with their hits, including Beggin', Sherry, Walk Like A Man, December, 1963 (Oh What a Night), Big Girls Don't Cry, My Eyes Adored You, Let's Hang On (To What We've Got), Bye Bye Baby, Can't Take My Eyes Off You, Working My Way Back to You, Fallen Angel, Rag Doll and Who Loves You.
Jukebox musicals often place existing songs into an original plot but this is an example of where the writers use the material to tell the story of the band and band members. One of them Bob Gaudio, commissioned book writers Rick Elice and Marshall Brickman, and director Des McAnuff to create the piece which they came to think of as a classic American story of rags to riches, and back to rags.
The songs are so ubiquitous and so slickly produced on record that it's easy to lose the personalities of each band member in the smooth combined power of their harmonies; Although the soaring vocals of lead singer Frankie Valley are always instantly recognizable. One of the challenges of the theatre show has always been to find a young performer who can imitate him but every time I've seen it each new leading man has been as impressive as the last.
Little was known to the public about the group's history in the 1960s when they came to prominence. This was partly to do with the fact that the Beatles seemed to suck up all the publicity. But it's also because the guys had the kinds of unfortunate pasts that could ruin their squeaky clean public personas and jeopardize record sales if the public found out. Gaudio has spoken of the irony of this. -
Back then, things were a little clean-cut, don't forget, so the idea of our story getting out was horrifying to us. Other bands of the time projected street-tough images, but The Four Seasons cleaned themselves up in order to be palatable for mainstream listeners.
The evening is artfully divided into sections representing the four seasons of the pop group's development. What audiences love is the authenticity of the story telling which is a result of extensive interviews with surviving Four Seasons members Gaudio, Frankie Valli and Tommy DeVito.
But having three different perspectives on events didn't always make things easy for the writer. It was only when they finally got DeVito's idiosyncratic version of events that the piece began to take a more vivid theatrical shape.
Once can imagine that there were now too many big egos involved at this stage for any real creativity to take place so it's not surprising to hear that, by mutual consent, the band members absented themselves from the production until opening night.
And that must have been a nail biting evening for all concerned because Gaudio and Valli retained the option to pull the show if they did not like it. But of course they did and JERSEY BOYS combination of gritty drama and exquisite pop has made it a multi-award winning international smash hit.
Don't miss the opportunity to discover or reacquaint yourself with it next April.