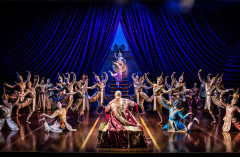 SOMETHING WONDERFUL is a song from Rodger's and Hammerstein's glorious musical THE KING AND I.
For this weekend only you can enjoy a live stream of the last multi-award winning Broadway production.
Got the lock down blues? Put on your headphones, and lose yourself in its romance, comedy, passion and of course the wonderful songs delivered by top musicians and performers. I guarantee it'll transport you and lift your spirits!
Here's what I wrote about this version in 2018 when the production visited the London Palladium.
FIVE STARS.
THE KING AND I is one of the evergreen hits by the lyricist Oscar Hammerstein II and the composer Richard Rodgers. They both had serious form with other writing partners but when they teamed up to write OKLAHOMA it was such a hit that they became Broadway Royalty. There were a few flops but their magnificent hit shows including SOUTH PACIFIC, CAROUSEL, THE KING AND I, and of course THE SOUND OF MUSIC will always be revived thanks to the gorgeous songs and appealing characters.
Although the material is regarded as safe and cosy these days they really weren't when they were first written in the 1950s. In fact, were a modern writing team to tackle the same themes, they'd be regarded as cutting edge for creating popular entertainment which explored dysfunctional families, breaking racist taboos, men at war and resistance to fascism, all of which you'll find in their work.
Consider the plot of THE KING AND I which tells how an English school mistress, Anna, travels to an exotic dictatorship, Siam, and civilises its king who's hitherto practiced polygamy and been prone to psychopathic murderous rages. She helps two fugitives escape his racist wrath and questions and stems the flow of English Imperialism whilst nearly, note: nearly, embarking on an interracial marriage with the ruler. In fact the show stops just short of allowing this to happen, perhaps that would have been too rich for 1950's segregated America.
None the less the scene in which they clearly fall in love during a polka lesson and the song SHALL WE DANCE is one of the greatest moments in musical theatre romance. Other highlights include a haunting anthem to forbidden love WE KISS IN THE SHADOWS, a wife extolling the virtues of her brute of a husband, SOMETHING WONDERFUL, and a gorgeous evocation of long lost love, HELLO YOUNG LOVERS. Anna's song with the king's children from various marriages, GETTING TO KNOW YOU, is also a joy, filling the stage with adorable, exotically dressed, tiny kids.
Ok it's long and there are moments that could do with a tweak to reflect modern sensibilities but don't let that deter you. Treat yourself.
CORRECTION. I've just checked the link I was going to share with you and apparently it's only available in the U.S. If you're reading this in the States you can access it via https://www.broadwayhd.com/
Everyone else, fear not! You can still watch the Hollywood film and Yul Brynner's Oscar winning performance as the King in the UK on Netflix for £3.50 and not just this weekend, anytime!
Everything in the review still applies. Enjoy!