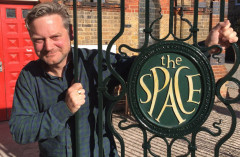 The King's Head Theatre in Islington has displayed commendable perseverance and imagination in continuing to engage with its audience base and artists through out the Corona crisis.
Last week saw the launch of a new phase in its output standardising its schedule to provide a 30 minute drop in every Thursday at 1pm.
There'll be a monthly book club during which theatre artists will lay out their responses to particular texts. More details are to be announced but two lunchtime nibbles have been scheduled. Here's the venue's descriptions of what you can expect.
Spotlight On: The Space with Adam Hemming, Thursday 24 September
The Space is a theatre on the Isle of Dogs increasing access to the arts and providing support for new artists. Artistic Director, Adam Hemming joined us back in May to discuss the venue and their digital response to COVID-19, Locked Down, Looking Up. Join Adam next week to find out about upcoming shows, further online programming and what you can do to help support the Space during these difficult times.
Actor 'Ask Me Anything' with Lee Knight Thursday 01 October
Star of our West End, smash-hit production of Coming Clean, Lee Knight is no stranger to the King's Head Theatre, nor the stage. Lee recently launched The Audition Room: a new stream of online classes and workshops taught exclusively by industry-leading, working actors. Want advice on self-taping? Looking for some Drama School audition top tips? Make sure to tune in on the 01 October and ask away!
Theatre makers are invited to join new Facebook community KHTConnected, described as "A small, focused and supportive network for creatives to come together and share ideas and work they are developing".
They hope to - continue to enable discussions, encourage partnerships and provide opportunities to create new work. Let's keep building and supporting our community.
And urge us - Let's stay connected.