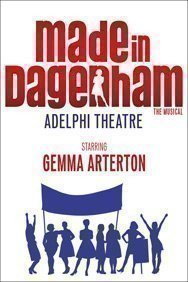 It's great to hear the musical based on the film MADE IN DAGENHAM is going ahead. It opens at the Adelphi Theatre in November starring Gemma Arterton as a trade union leader and is directed by Rupert Gould.
I've been excited to see it since I heard gossip about the workshop from people who were there.
A workshop is a process a musical and sometimes a play goes through as part of its development. Usually they take place over a week in which actors read through the first draft of a script and learn the songs.
This helps the writer, director and producer see where any problems lie. They asses things like how the songs mesh with the dialogue and whether the plot is told in the best way to hook an audience and to ensure that the piece packs an emotional punch. You find out if the jokes are funny and it also gives everyone the chance to evaluate whether certain actors are right for certain parts.
Although that last bit is usually a secret. From the actors point of view they've just been hired to try out the piece with no commitment from employers that they'll be in the final production. That way producers have the freedom to dump anyone who turns out to be unsuited to a character or who doesn't have enough profile.
This cuts both ways. Sometimes a star will be engaged for the workshop in the hope they'll stay with the project but with no commitment up front the star may then decide the projects not for them or find their schedule can't accommodate it.
For example the revival of Fings Aint Wot the Used to Be which opens soon at the Theatre Royal in Stratford, London had a workshop with Catherine Tate in the lead. Now, for whatever reason the parts to be played by Jessie Wallace (Kat from Eastenders)
On the Friday of the workshop week there's usually a presentation to the producers and sometimes investors to assess whether the piece is ready to go to a full production or whether it needs another draft based on lessons learnt during the process. Depending on the director these presentations are often quite simple affairs where the actors sit in a row and read/sing everything through to an invited audience.
Apparently the cast of THE MADE IN DAGENHAM workshop loved the material so much that they decided to stage whole sections of it, learning the lines and giving full on performances, such was their enthusiasm.
Can't wait!