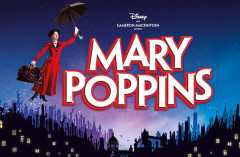 At the moment Mary Poppins plays on Thursday to Saturday at 7.30pm with a Family Night on Wednesday at 7pm and matinees on Thursday, Saturday and Sunday at 2.30pm. From the end of the month it'll also be on stage Mondays at half past seven. And now, the show is extending until 18th December 2022. Produced by Disney and Cameron Mackintosh, it's a sure-fire hit for the kids.
Who's involved in Mary Poppins?
Welcome to the classic tale of the UK's favourite Nanny. When Mary arrives at Cherry Tree Lane magic happens. The show is spectacularly brought to the stage with awesome choreography, amazing special effects, and unforgettable show tunes. The stage version has been adapted from the popular stories by PL Travers and also the original beloved Walt Disney movie, and it has been delighting audiences in the West End for 17 years so far.
Zizi Strallen plays Mary Poppins
Louis Gaunt is Bert
Charlie Anson plays George Banks
Amy Griffiths is Winifred Banks
Petula Clark is Bird Woman
Liz Robertson is Miss Andrew
Claire Machin is Mrs Brill
Jack North plays Robertson Ay
Paul F. Monaghan plays both Admiral Boom and the Bank Chairman
Katie Cox, Rose Dawson, Megan Donovan, Sophie Hartley-Booth, Erin Hillyer, Megan Judge, Shayla McCormack, Arrabella McDermott and Maddison Thew alternate the role of Jane Banks
Logan Clark, Cian Eagle-Service, Oliver Gordon, George Hamblin, Charlie Murphy, Gabriel Payne, Sebastian Selwood, Noah Swer-Fox and Frankie Treadaway alternate the role of Michael Banks
The ensemble consists of Yves Adang, Angeline Bell, Lydia Boulton, Alison Connell, Adam Davidson, Danielle Delys, Joseph Dockree, Charlie Donnelly, Stan Doughty, Glen Facey, Davide Fienauri, Harry Francis, Lyndsey Gardiner, Ian Gareth-Jones, Maria Garrett, Mark Goldthorp, Jacqueline Hughes, Emma Hunter, Jason Kajdi, Sam Lathwood, Jordan Livesey, Tania Mathurin, Laura Medforth, Alex Pinder, Ben Redfern, Clare Rickard, Lucie-Mae Sumner, Scott Waugh and Monique Young
The original music and lyrics are by Richard M. Sherman and Robert B. Sherman
New songs and additional music are by the Olivier award-winning British team George Stiles and Anthony Drewe
The book is by the Academy Award-winning screenwriter and Downton Abbey creator, Julian Fellowes
The production is co-created by Cameron Mackintosh himself
The producer for Disney Theatrical Productions is Thomas Schumacher
This production of Mary Poppins has orchestrations by William David Brohn with dance and vocal arrangements by George Stiles
Sound design is by Paul Gatehouse and lighting is by Hugh Vanstone and Natasha Katz
Co-choreography is by Stephen Mear
The re-imagined set and costume designs are by Bob Crowley
Co-direction and choreography is by Matthew Bourne
The director is Richard Eyre.
Buy Mary Poppins Tickets
Buy cheap Mary Poppins tickets online with us for great service. Pick the seats you love best using our Prince Edward Theatre seating plan. Then how your etickets at the door on the day for a brilliant show you won't forget in a hurry.
About the Prince Edward Theatre
The Prince Edward Theatre belongs to the Delfont Mackintosh group of venues. In 1932 it hosted the scandalous Josephine Baker, the first Black woman to star in a major motion picture, the 1927 silent film Siren of the Tropics. Past shows at the Prince Edward Theatre include Jersey Boys, Miss Saigon, Aladdin and Mamma Mia!