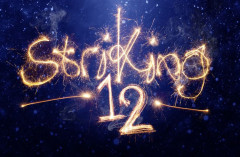 If you like your theatre bite size with plenty of time to grab a bite to eat afterwards London currently has two new 75 minute chamber musicals on offer which are also full of seasonal cheer and from writers with a good track record of success.
At the Union Theatre you can see a cute little show called STRIKING 12 and the American writers responsible have an impressive CV. Between them book music and lyric writers Brendan Milburn & Valerie Vigoda and book and lyric writer Rachel Sheinkin have contributed to a number of respected New York hits and Sheinkin was lyricist for the cult show THE 25th ANNUAL PUTNUM COUNTY SPELLING BEE.
On this occasion the 1 Act story is so wafer thin as to be barely worth telling and the characters so two dimensional that they practically float away. But there's an engaging seasonal goofiness to the tale of a modern grump mellowing on New Year's Eve by reading Hans Christian Anderson's THE LITTLE MACH GIRL. (Although probably best not to dwell too deeply on the way it equates a starving child freezing to death with today's New Yorkers getting the winter blues)
The musicality is great with each of the cast of 6 adept at singing, acting and playing the retro 90s score.
The food in the Theatre's cafe is delicious and the Christmas specials are gorgeous (I currently work in the building) so if you book for the show and dinner I can guarantee you a very pleasant Christmassy evening.
The show SIX, a pop musical about the wives of Henry VIII forming a girl band, is currently a big critical and box office hit at the Arts Theatre and writer/performers Zak Ghazi/Torbati and Toby Marlow and director Lucy Moss are also behind HOT GAY TIME MACHINE, a new show in the little theatre downstairs at Trafalgar Studios. It takes Dickens's Christmas Carol as a starting point but spirals off into the bold, brash and high camp reminiscences of two gay men. Audiences are finding it hilarious and this could be a great pre-clubbing treat. Especially with the night club Heaven a short walk away.